Lily Collins' was arguably one of the best-dressed celebrities at the 2019 Met Gala (and one of the stars who definitely nailed the camp theme). And while much of the attention was paid to her lavender shadow, Tammy Faye Bakker-style lashes, and towering, floral-topped bouffant, her jewelry may have actually been the most over-the-top part of her outfit that night, as she explained to James Corden on The Late Late Show in the video above.
"You were wearing some major jewelry that night," Corden said to Collins, showing her a picture of her on the Met Gala red carpet wearing the Cartier Magnitude High Jewelry necklace that Forbes reports was made with platinum, emeralds, rock crystal, onyx, black lacquer, and diamonds, according to. "Is this one of those necklaces that comes with its own security guard?"
Turns out, Corden was correct. "Yep, not only its own security guard but there was a woman — she's the only woman that had the key to unlock it," said Collins. "So there's a special device used for this specific necklace and at the end of the night I had to have her their to take it off."
If that all sounds like a scene out of a movie, well, that's because it basically is. The whole situation recalls the synopsis of the 2018 film, Ocean's 8 — minus a savvy, well-organized team of women trying to pull off what initially seems like an impossible heist. In the film, Debbie Ocean (played by Sandra Bullock), wants to steal an $150 million Cartier necklace called the Toussaint, and decides to use Vogue's annual Met Gala to do so. She assembles a group of women (played by Rihanna, Cate Blanchett, Awkwafina, Mindy Kaling, Sarah Paulson, and Helena Bonham Carter), to execute the theft, which involves convincing a famous actress named Daphne Kluger (played by Anne Hathaway) to wear the necklace, giving her food poisoning while at the ball, and then sneakily slipping it off her neck and replacing it with a cubic zirconia duplicate as she gets violently sick in the bathroom.
Now, here's the part of the movie that mimics Collins Met Gala night: Not only does the Cartier Toussaint necklace in the film come with security guards, but it can also only be unclasped by a special magnet key carried by one of those guards — just like Collin's gorgeous Cartier jewels. The whole fancy magnet mechanism is actually a huge part of the film's story line as it throws a wrench in Debbie Ocean's well-thought-out plan, requiring Nine Ball (Rihanna's character), to enlist her younger sister to help to replicate it.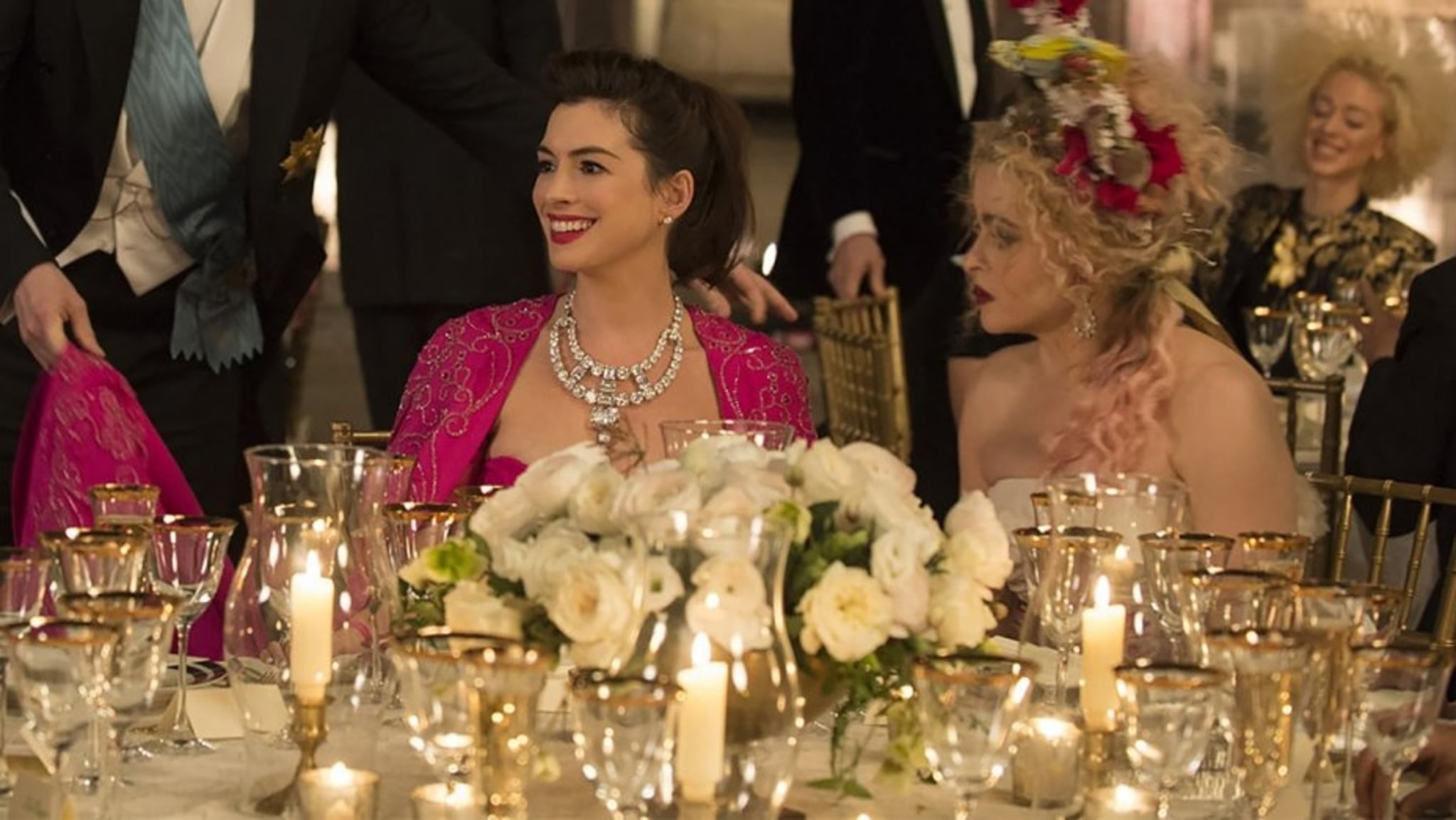 Collins' Met Gala evening obviously ended much differently than Kluger's in Ocean's 8. She returned to her hotel room with the real necklace and her security guard in tow, and even asked the guard to snap a quick photo before she broke out the special key. "One of my best friends was supposed to go to the after parties with me and she bailed, and usually she takes a picture of me in the bathtub in my outfit — I know, it's a thing I do, whatever — but I asked the security guard to take it for me," Collins told Corden. "So before they took the jewelry off, I was like, 'I know this is weird but can you take a picture of me in the bathtub. It was a woman, so I felt fine about that, but she thought i was really weird … but she nailed it. I got the photo." And after scrolling through her Instagram account to find the snap, we can second that notion.