Valerie Macon/Getty Images
Lee Daniels is once again addressing the scandal and drama surrounding the Empire star Jussie Smollett.
The show's writer and creator uploaded an Instagram video on Wednesday night just hours before the most recent episode aired. Apparently, it had some details in it regarding Smollett's character that seem a bit less-than-coincidental. In his video, Daniels candidly discussed his feelings (after brushing his teeth) about everything that has transpired over the past few weeks and months regarding Smollett and the speedy 180 that occurred after his Jan. 29 attack, which he is suspected of orchestrating.
Daniels talked about the emotional wave that has taken over himself and the entire Empire cast. The show is currently in its fifth season and he compared the recent weeks to "a freaking roller coaster." He told the camera, "We—me and my cast—have experienced pain, and anger, and sadness and frustration, and we really don't know how to deal with it."
The 59-year-old expressed to the Empire and Star fans that what happened on tonight's episodes was made "prior to the incident." He assured, "This is not what the show was made for." 
Daniels then opened up about the show's meaning and what he hoped it would symbolize for the country.
"This show was made to bring America together," he said. "To talk about the atrocities right now on the streets."
Daniels wrote in his caption that he was "finally ok!!!" to talk about it. Although he never mentioned Smollett by name, it was abundantly clear that the actor and the frenzy surrounding his case were the central part of his message.
In the early hours of Jan. 29 in Chicago, Smollett was hospitalized after two men allegedly attacked him, sprayed him with a chemical and tied a noose around his neck while yelling homophobic and racist slurs. It later came out that these men supposedly yelled, "MAGA country!" in the middle of it. Police were looking into it as a "possible hate crime."
Days later, two brothers were arrested as suspects and then released. Smollett's case took a major turn on Feb. 16 when the Chicago Police Department said they had "shifted the trajectory of the investigation" and it happened one day after the brothers were released. Many outlets reported around that time that Smollett allegedly paid the brothers, Olabinjo Osundairo and Abimbola Osundairo, $3,500 beforehand and then allegedly promised $500 more after.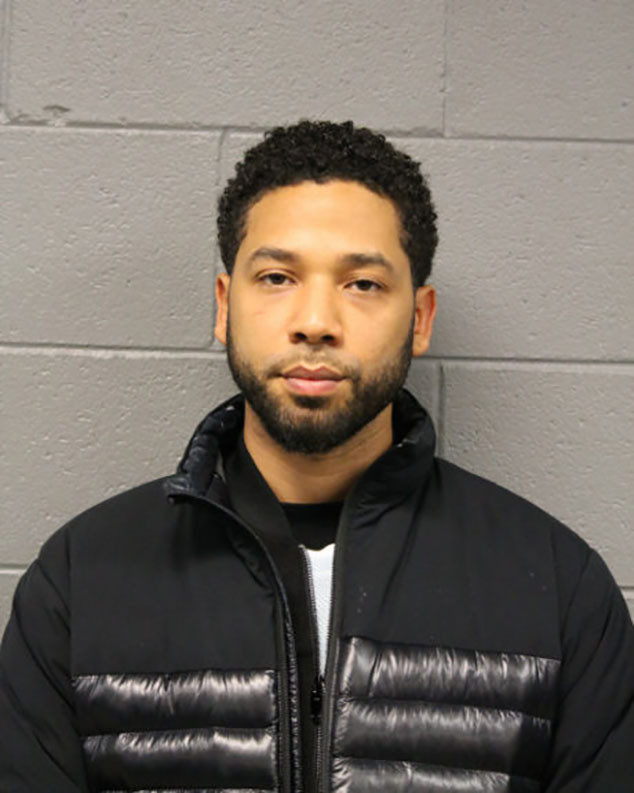 Chicago Police Department
On Feb. 20, Smollett was "officially classified as a suspect" and then arrested one day later on charges of disorderly conduct for filing a false police report. He was then released on a $100,000 bond and went back to the Empire set.
Smollett's attorneys said in a statement at the time, "Like any other citizen, Mr. Smollett enjoys the presumption of innocence, particularly when there has been an investigation like this one where information, both true and false, has been repeatedly leaked. Given these circumstances, we intend to conduct a thorough investigation and to mount an aggressive defense."
The 36-year-old actor was indicted on 16 felony counts by a grand jury and pleaded not guilty.
After Smollett was released from jail, Chicago Police Superintendent Eddie Johnson said in a press conference that the actor orchestrated it all "because he was dissatisfied with his salary, so he concocted a story about being attacked."
Smollett's attorney refuted, "Jussie adamantly maintains his innocence even if law enforcement has robbed him of that presumption."
At first, the show and network said Smollett's character Jamal Lyon would not be written off the show. However, Empire's executive producers Daniels, Danny Strong, Brett Mahoney, Brian Grazer, Sanaa Hamri, Francie Calfo and Dennis Hammer released a statement on Feb. 22 about his future on the popular series. 
"Jussie has been an important member of our EMPIRE family for the past five years and we care about him deeply. While these allegations are very disturbing, we are placing our trust in the legal system as the process plays out," the statement read. "We are also aware of the effects of this process on the cast and crew members who work on our show and to avoid further disruption on set, we have decided to remove the role of 'Jamal' from the final two episodes of the season."
A few weeks later, Empire's executive producer Brett Mahoney explained to Entertainment Weekly why it was a "difficult decision" to make.
"It was a very difficult decision, but I think in terms of allowing the cast and the crew to really get the work done without a great deal of disruption in terms of the day-to-day and the stress of the day-to-day, and, in addition, allowing Jussie the time to really deal with what he's been confronted with and allow him the time to focus and prepare his case, this seems like the logical decision to make," Mahoney said.