Kevin Mazur/Getty Images for Ariana Grande
Ariana Grande is "feeling thankful and energized" after a successful opening night of the Sweetener tour. 
After months and months of preparation, the starlet kicked off her tour with a crowd-pleasing stop in Albany, New York. Thousands of fans streamed into the stadium where the singer delivered a rousing performance of over 25 songs on the impressive set-list. 
And the singer truly couldn't have done it all without the love and support of her fans. A source tells E! News that Ariana's drive to create an astounding concert experience is all because of her desire to create "something special for her fans as a way to thank them for being there for her through her highs and lows of the last year."
The insider adds, "With all of the focus on her personal life, Ariana has felt additional motivation to put on the best show possible to remind her critics and fans of her strengths as an artist and performer."
But even the countless hours in the dance studio couldn't have prepared the star for the first night of one of her biggest tours. The insider shares that the 25-year-old had the typical "opening night jitters," but luckily she had the shoulders of her brother and closest friends to lean on. Now that the star has a successful opening night under her belt the insider says that her "friends and family hope she can breathe a sigh of relief after such a great first night."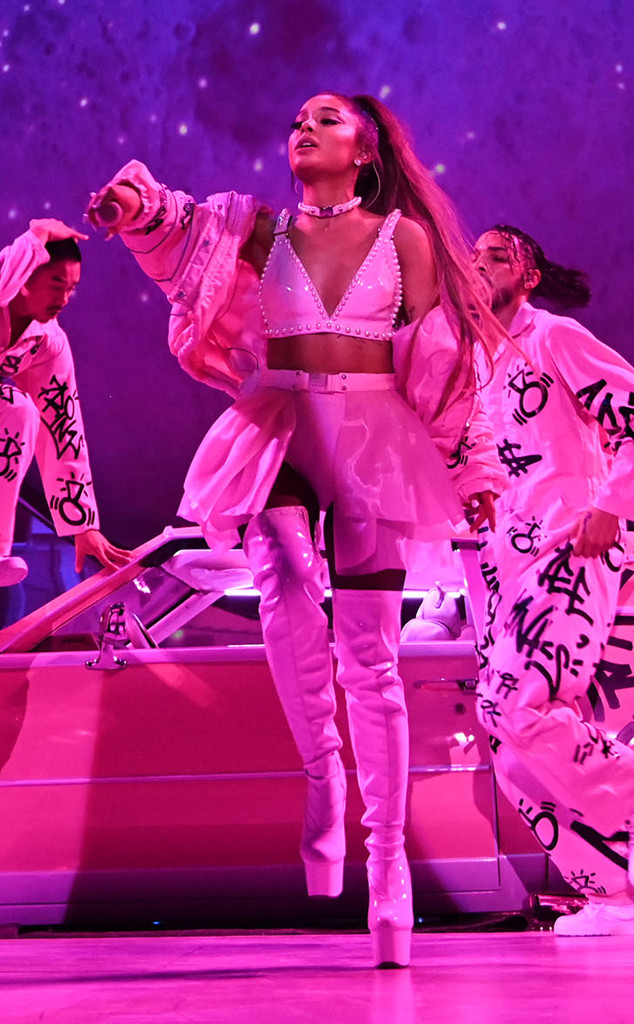 Kevin Mazur/Getty Images for Ariana Grande
Moreover, the tour seems to be a source of positivity and growth in Ariana's life. The source shares that Ariana "is in a great place mentally and emotionally," despite the grueling schedule she has.
As for her dating life, it appears any chance of romance has taken a backseat to the Sweetener performer's career aspirations. So, while she may be spending more time with exes like Big Sean and Ricky, the source explains that she only sees them because she truly "has a good relationship with both of them." Another source adds, "There's no chance of them getting back together or pursuing a relationship."
After the troubles she has gone through in recent years, the source says Ariana's "committed to having only positivity in her life." 
And judging by the looks of Monday night's concert, there are only good vibes to be found on the Sweetener tour.
– Reporting by Spencer Lubitz