Anyone else feel like no one on their social media feeds can't shut up about Elizabeth Holmes?
If that name sounds familiar to you, it's not because she's that girl from your hometown who just got engaged. And no, she's not one of the students caught in in the college admissions scandal. She's the inventor of Theranos, the $10 billion dollar company that was about to revolutionize the health care system…except it never did because it was all based on false promises, raising nearly $1 billion dollars by lying to investors.
The epic rise and fall of Theranos and Holmes, now 35, has all the makings of a classicHollywood tale: secret office romances, fake voices, lots of lies, lots of money and, of course, a compelling anti-hero at the center of it all.
And Hollywood has definitely taken notice, with the Theranos scandal receiving the pop culture version of an EGOT: It inspired a best-selling book (Bad Blood), a hit podcast (The Dropout), a 20/20 special and an HBO documentary, title The Inventor: Out for Blood in Silicon Valley, which aired on Monday night.
Oh, and Jennifer Lawrence is also caught up in the tsunami that is Theranos-related goodies, as she is set to star as Holmes in Adam McKay's take, which has yet to start filming or announce a release date. 
So no, you're not alone in your obsession with Holmes, who was just 19 years old when she dropped out of Stanford to start her bio-tech company that would have many in Silicon Valley naming her the next Steve Jobs. Except in the end, his tech actually worked. 
To quickly give you an idea of how crazy-successful Holmes had made Theranos, just look at the caliber of people Holmes was able to receive funding or support from over the years before the Wall Street Journal first reported the company's then-alleged fraud in 2015: A former president, Bill Clinton, two former Secretary of States, Henry Kissinger and George Shultz, two senators, current Secretary of Education Betsy DeVos, a partridge and a pear tree. 
David Orrell/CNBC/NBCU Photo Bank via Getty Images
So how was Holmes, with just one full year at Stanford under her belt, able to secure $10 billion in funding, a spot on TIME 100's list of the world's most influential people in 2014, and was once touted as the youngest self-made female billionaire in the U.S. by Forbes (Kylie Jenner now holds that title), able to pull it all off? 
You have to go back to the beginning, as her ambition to change the world started at a young age. 
The daughter of a Congressional committee staffer and an Enron employee, Holmes always had big plans for her future, drawing a sketch of a time machine when she was just seven, and telling her father at the age of nine, "What I really want out of life is to discover something new, something that mankind didn't know was possible to do," according to a New Yorker profile. 
And according to a family friend quoted in Bad Blood: Secrets and Lies in a Silicon Valley Startup, the 2018 best-selling book written by John Carreyrou that is currently enjoying a surge in sales in the aftermath of the podcast and HBO documentary's respective releases, Holmes would often answer the question of what she wanted to be when she grew up with: "a billionaire." When the follow-up question was, "Don't you want to be the president?" she responded, "No, the president will want to marry me because I'll have so much money."
By 31, she was a billionaire. But in an interview on CBS This Morning, Holmes said it wasn't all about the Benjamins for her anymore.
"You know, it's not what matters," Holmes said at the time. "What matters is how well we do in trying to make people's lives better. That's why I'm doing this. That's why I work the way that I work. And that's why I love what I'm doing so much."
Holmes' idea for Theranos (which therapy and diagnosis combined to form one word, by the way) ) was born out of her fear of needles (She once told Glamour, "I detest [them] deeply") and the loss of her uncle to cancer, an anecdote she often repeated in interviews and speeches. "I remember how much I loved him," she would say. "He didn't live to see his son grow up and I never got to say goodbye." 
According to Holmes, Theranos' tech, a bio-chip, would be able to test for hundreds of medical conditions with a single drop of blood. Plus, it could also administer medication through it. 
"Making it possible to do tests on tiny samples; any cancer patient, any child, any elderly person whose veins collapse will tell you not having to have their blood drawn that way is a big deal," Holmes explained to CBS This Morning.
In a word, it was revolutionary. The only problem was it was impossible, something Holmes was told by a professor at Stanford before she dropped out. 
 Dr. Phyllis Gardner, a professor of medicine at Stanford, "One day she came to me and she described her idea…you can't do that, it's impossible, physically. I said, 'Elizabeth…I don't think that's going to work.'" 
Still, she persisted. "She never thought she had any limits."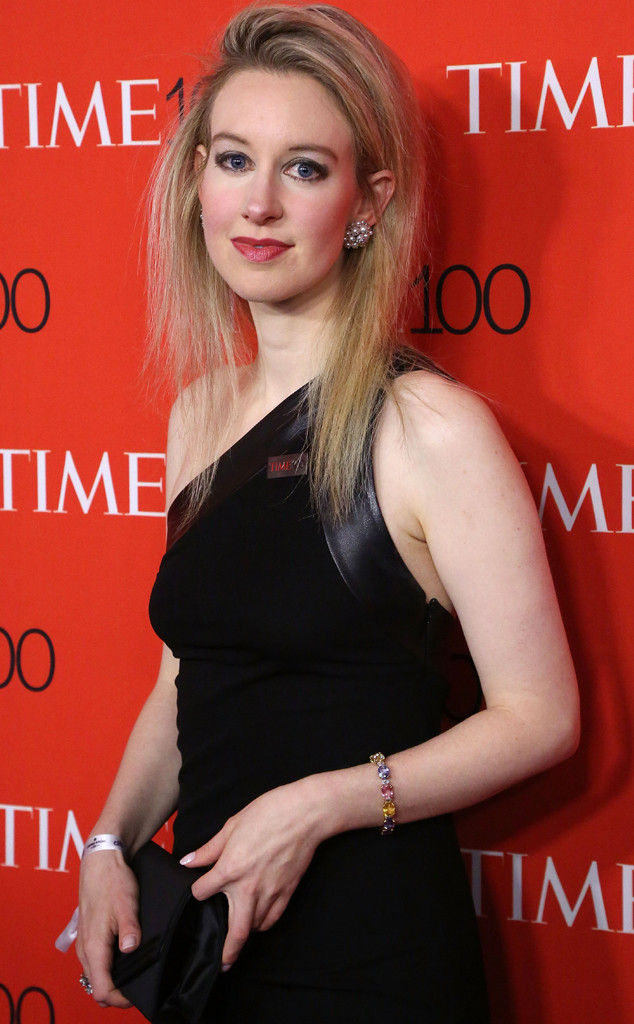 Taylor Hill/Getty Images
And the well-respected head of the Stanford science department Channing Robertson fully believed in Holmes and her vision, eventually leaving his position at the university to work for her. 
"When I finally connected with what Elizabeth fundamentally is, I realized that I could have just as well been looking into the eyes of a Steve Jobs or a Bill Gates," Robertson told Fortune in 2014.
Carreyrou, who wrote the Wall Street Journal article that sparked Theranos' downfall before penning Bad Blood, spoke about Holmes' powers of persuasion on a Vanity Fair podcast.
"This is sort of a controversial topic now amid the MeToo movement but it's undeniable that her marks, again and again, were older men," he said. "She wowed them. I don't necessarily think that it was a sexual thing by any means…I think it was a combination of her intelligence, a combination of her charisma, her bold vision, her energy, all of that in one package."
During the TCA panel for The Inventor in February, former employee and whistleblower Tyler Shultz (grandson of one of Holmes' greatest supporters and Theranos board member Howard Shultz), spoke to Holmes' charisma, saying she "made you feel like you were the most important person to her and you were critical to achieving the vision she had sold you on." He described her as having a "reality distortion field she walked around with."
And in an interview with the LA Times, Shultz said it's easy to look back now and spot the warning signs, but hindsight is, as it always in in these kind of situations, 20/20. "Once you know the truth, it's really easy to see it, but when you don't—Elizabeth had this way of locking you in." 
She looked the part. She sounded the part. She acted the part. Everyone wanted to believe it was the real deal. 
"She may be the female Mark Zuckerberg that Silicon Valley has been waiting for," Vivek Wadhwa, a professor and researcher at Stanford and Duke, said in 2014. "She started when she was young, defied the odds and built a great technology, and is doing good for the world."
In a 2014 New Yorker profile, board member and former Defense Secretary William J. Perry gushed, "She has sometimes been called another Steve Jobs, but I think that's an inadequate comparison. She has a social consciousness that Steve never had. He was a genius; she's one with a big heart."
Also, she was just a very interesting person. Just look at this paragraph describing her personal life (or lack thereof) in that same The New Yorker piece. 
Her home is a two-bedroom condo in Palo Alto, and she lives an austere life. Although she can quote Jane Austen by heart, she no longer devotes time to novels or friends, doesn't date, doesn't own a television, and hasn't taken a vacation in ten years. Her refrigerator is all but empty, as she eats most of her meals at the office. She is a vegan, and several times a day she drinks a pulverized concoction of cucumber, parsley, kale, spinach, romaine lettuce, and celery.
But the detail attracting the most attention from people (pre and post-downfall) was Holmes' voice. It was shockingly low and deep, an impressive baritone that immediately made you lean in just a little bit closer when she was speaking. 
But many, including her former Stanford professor, said it wasn't her real voice, with Gardner saying, "When she came to me she didn't have a low voice."
"I think it was at one of the company parties, and maybe she had too much to drink or what not, but she fell out of character and she exposed that that was not necessarily her true voice," former Theranos employee Ana Arriola said in an episode of The Dropout. "Maybe she needed to be more convincing to project a persona within a room amongst male VC?  I'm not really quite sure."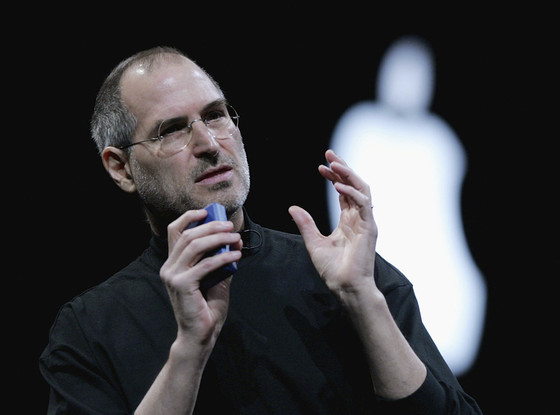 Justin Sullivan/Getty Images
Along with Jobs' right-hand man Avie Tevanian, Arriola was one of Holmes' many recruits from Apple, which played into her obsession with its late founder. In fact, Arriola, who helped come up with the design of the iPhone, gave up 15,000 shares in Apple stock to join Theranos after a meeting with Holmes. 
"It sounded like an incredibly compelling mission, that was basically really thinking about the betterment of humanity," Arriola explained. "She's incredibly passionate, she's very energetic, very expressive with her hands and has a very unique, distinctive voice that you kind of get drawn into what it is she's conveying." 
Aside from change in her voice, there was also the huge shift in how she dressed.
When Arriola first joined the start-up, Holmes would wear these "frumpy Christmas sweaters" before eventually asking the ex-Apple employees about Jobs' infamous attire. 
When she learned Jobs exclusively wore black Issey Miyake turtlenecks, "I think she went off and tracked down who Issey Miyake was and the rest is couture history…she did change her aesthetic." 
But in 2015, Holmes told Glamour she had always been wearing black turtlenecks and they were merely a practice in practicality. 
"My mom had me in black turtlenecks when I was, like, eight," she said. "I probably have 150 of these. [It's] my uniform. It makes it easy, because every day you put on the same thing and don't have to think about it—one less thing in your life. All my focus is on the work. I take it so seriously; I'm sure that translates into how I dress."
Then there's also her dog, Balto, her 9-week-old Siberian husky she flew first class across the country to pick up from a dog breeder, according to Vanity Fair. (This was in September 2017, so well after Theranos' troubles had started.)
Though Balto wasn't potty-trained, Holmes still brought him into the Theranos labs every day, with the magazine reporting, "While Holmes held board meetings, Balto could be found in the corner of the room relieving himself while a frenzied assistant was left to clean up the mess." 
It gets weirder: When Holmes discovered Balto had a small trace of wolf origin, which many huskies do, she began answering "He's a wolf" when asked by people what his breed was. 
There were other weird quirks employees picked up on—she had bodyguards who referred to her as "Eagle One," she didn't blink, she could be spotted "rocking and slamming her head to hip hop music" alone in her car in the parking lot and would tell lies, like saying she was at home when she was in an office down the hall from the employee she was e-mailing—and yet, many of her recruits "idolized" her, with Holmes hiring some of the top names and talents in Silicon Valley to work at Theranos.
"For being a woman in the sciences, being a woman in tech," she started former lab tech Erika Cheung, another whistleblower, said in The Inventor. "The fact that she started her own company that got me really excited. She was a really good idol to have."
Justin Maxwell, one of the many who made the move over from Apple, said "Elizabeth did do a great job of recruiting amazing people."
But the turnover rate at Theranos was high and he'd watch as people he really respected "just disappeared." He explained that disagreeing or questioning anything Holmes said was risky and could often result in losing your job.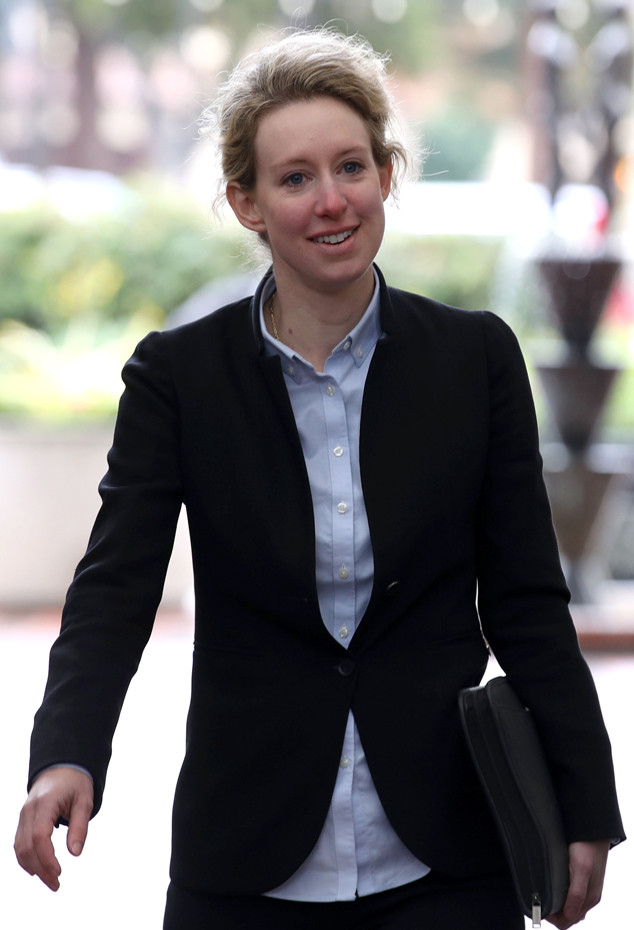 Justin Sullivan/Getty Images
"Anyone who told Elizabeth 'no'…you were immediately terminated," he said. "It was a very unusual environment."
Adding to the unusual environment was the presence of Sunny Balwani, the company's president and Chief Operating Officer, who was also Holmes' boyfriend, though they never disclosed their relationship to investors and they didn't officially admit they had dated and withheld that information until deposition tapes were released in January 2019.
Some of her board members even tried to set her up on dates over the years, with Holmes always declining.  "My wife and I feel that one of our jobs is to bring her out," George Shultz told the New Yorker.
Holmes first met Balwani, who was nearly 20 years her senior, during a trip to Beijing with Stanford after she had graduated high school, though they didn't enter a romantic relationship until after she dropped out of Stanford, with Carreyrou writing in Bad Blood that the couple was living together by 2005. 
While he didn't have the experience in biomedical engineering, Balwani joined Theranos in 2009, quickly becoming the company's COO. 
In an interview with Business Insider, Carreyrou recounted what a source had told him about the secret couple's dynamic, though most employees had no idea they were dating. 
"[My source] made very clear to me that they were running this thing as a partnership, and that Sunny was kind of the enforcer and Holmes' older boyfriend," the author explained. "He painted the portrait of this fraud being run by a couple."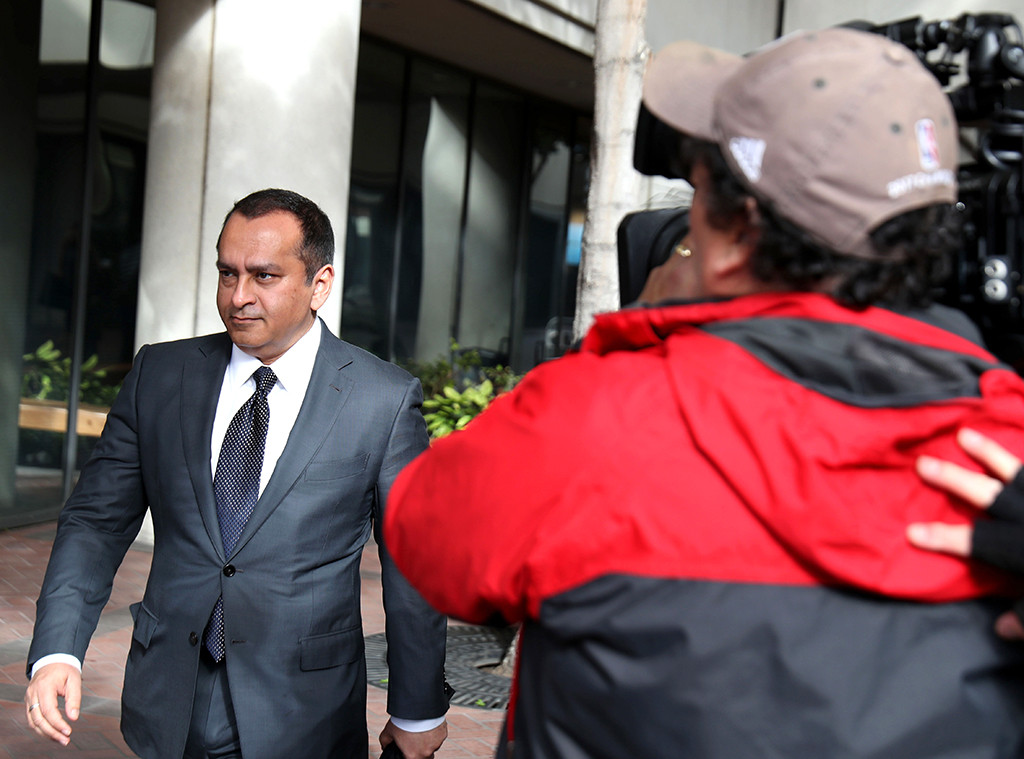 Justin Sullivan/Getty Images
At Theranos, Balwani was a "menacing" figure; he'd often track when employees arrived and left, give company speeches that often-included chanting "f–k you!" when talking about the company's competitors or detractors, and "would just get so angry or upset and was not well-versed in the sciences…and would frequently say things that were frankly inappropriate," according to Cheung on The Dropout. 
"He was terse and he was a bit of a hothead," Michael Craig, a former employee said on the podcast. "There was one level, this need to assert dominance, and another level, I don't think he ran terrible deep…he has that need to prove himself and also pretending like he's above everything."
His nickname in the office? "The Enforcer," according to Schultz, employing "intimidation tactics." 
And like his girlfriend, employees also noted some odd things: He kept samurai swords in his office and drove a black Lamborghini with a license plate that read "VDIVICI" paying homage to Julius Caesar's' famous phrase that translates to "I came, I saw, I conquered."
While she was secretly dating the president of her company (who had invested $13 million of his own money with no interest), the sole female member of Theranos' 12-person board, Holmes often spoke about shattering the glass ceiling and inspiring other women.
"If I can show that in this country, a 19-year-old girl can drop out of school and build something like this," she said in an interview with The Mercury News in 2014, "then other women should be doing it."
And she was doing it, landing magazine covers, 
But then it all came crashing down in 2015.
After the Wall Street Journal article came out, Holmes maintained her innocence and Theranos' credibility and vision.
"This is what happens when you work to change things," she said during an appearance on CNBC's Mad Money. "First they think you're crazy, then they fight you, and then, all of a sudden, you change the world."
By 2018 though, Theranos officially shut down, with Balwani leaving the company in 2016 after he and Holmes had broken up. 
"Once we started working together it was a very intense relationship and that romantic piece that was there at the very beginning died," Holmes testified, according to audio in The Dropout. "I don't think it happened in one moment, but it was very clear we were colleagues."
While she didn't admit to any wrongdoing, Holmes paid a $500,000 fine and was barred from being an officer or director of a public company for 10 years in the SEC case, which charged the founder and Balwani with "massive fraud" for falsifying or exaggerating claims about the accuracy of the tech.
Now, the exes are awaiting a criminal trial after being indicted by a federal grand jury for wire fraud and conspiracy in June 2018.
For Holmes, who is facing up to 20 years in jail, "the wonderful thing about the way I was raised is that nobody ever told me I couldn't do those things," she told The New Yorker.
And it's that privilege or unrealistic expectation of what you could achieve or deserve to achieve simply because you were told so that seems to be at the root of so many of these stories.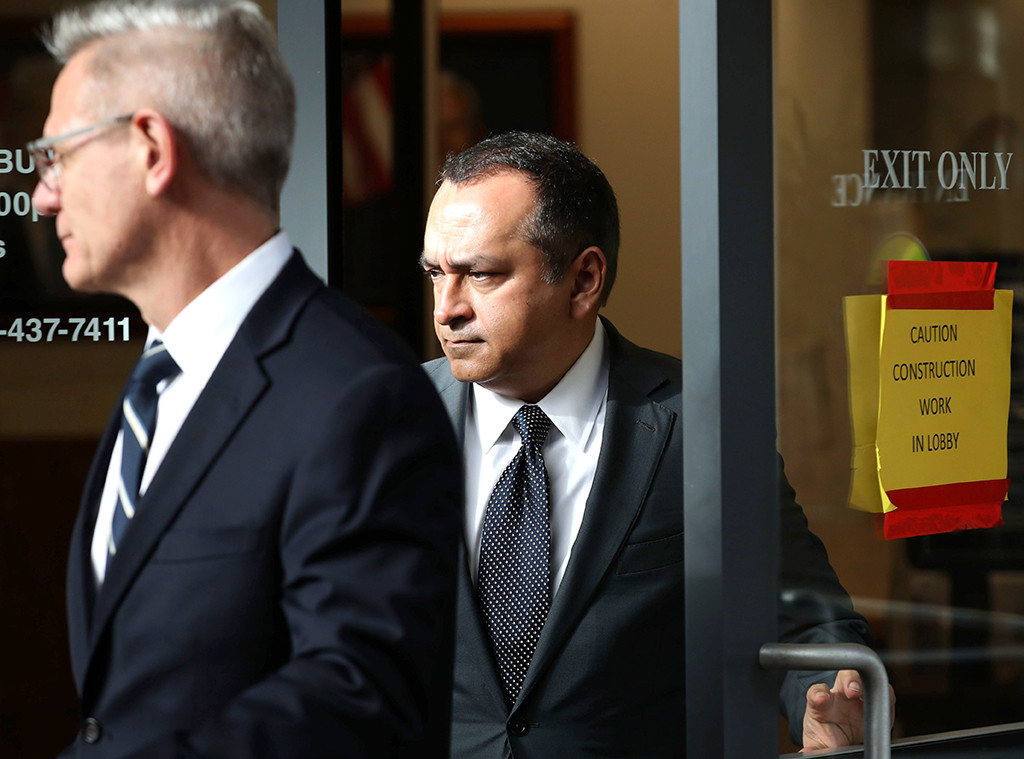 Justin Sullivan/Getty Images
"It's mind-blowing in many ways and says a lot about ambition and drive," Elizabeth Jarvis, the host of The Dropout, told the LA Times. "In order to have an Elizabeth Holmes, you also have to have many other people and institutions fail. It raises questions about Silicon Valley, about the media and about our willingness to buy a well-crafted narrative without a lot of substance. Elizabeth convinced so many supposedly smart people to buy into her narrative and put their reputations on that line for her, which makes the audience ask questions about themselves. I think that is why people keep coming back to it."
So what's Holmes currently up to? 
She's engaged and planning her comeback, despite awaiting trial.  "Holmes is currently living in San Francisco in a luxury apartment," Vanity Fair recently reported. "She's engaged to a younger hospitality heir, who also works in tech."
The turtlenecks are long gone, replaced with athleisure and a "chipper" outlook. 
Craig, one of her former employees, actually ran into Holmes in February 2019, detailing the encounter on The Dropout. 
"She was dressed in a dark hoodie and jeans and didn't look to have any makeup on or anything. She looked very young," he said. "She seemed a little bit worn-down, but she didn't seem like somebody who had done anything wrong."
And she's ready for redemption.
"Elizabeth sees herself as the victim," a source close to Holmes told Vanity Fair, which also reported she's looking into partnering with a filmmaker to tell her side of the story, as well as planning to write a book. 
According to a source: "One of Elizabeth's superpowers is she never looks back."
Don't miss E! News every weeknight at 7, only on E!