GVK/Bauer-Griffin/GC Images
Rob Kardashian appears to be on his way to making a comeback.
After a long social media break, the former Dancing with the Stars contestant has slowly been returning to the public eye, posting regularly on his Twitter page and retweeting videos of Kanye West's epic church services.
Could it be that the reality star is getting ready for a return into the public eye as he celebrates his 32nd birthday today? Let's analyze.
It is well known that Rob, who is arguably the most private out of the Kardashian clan, has struggled with fame in the past. He has publically dealt with diabetes and even had to take time away from filming his family's hit television show to avoid the pressures of being in the spotlight.
"The most important thing in my life to me is my children," Kris Jenner once said in an episode of Keeping Up With the Kardashians. "He was always someone who was very athletic and he's gained over 100 pounds. I don't talk about it very much so it's very upsetting. He doesn't want to participate. He doesn't go out of the house…He's very depressed." 
On top of all of this, he had to deal with the never ending drama between him and ex-fiancée Blac Chyna, which saw Instagram photos and Snapchat reveals of Rob accusing Chyna of cheating on him. The result? Rob deleted his Instagram and the two broke off their engagement, beginning what became a very public custody battle over their 2-year-old daughter, Dream Kardashian
Since the fall out, Rob has been taking an extended break from the spotlight, having only made a few public appearances over the past few months. He was last seen in a video that sister Khloe posted for their family's Christmas morning celebration.
But, luckily for loyal fans, things appear to be changing.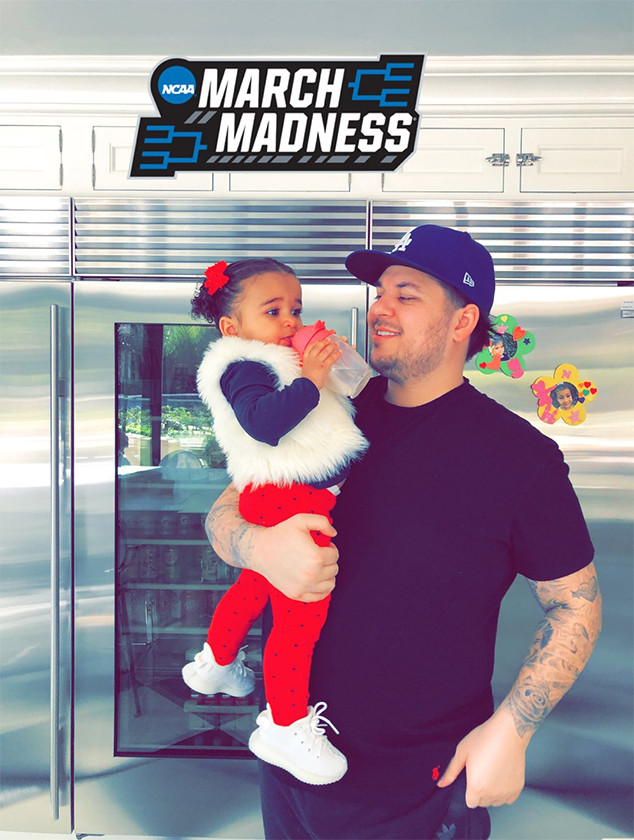 Twitter
For starters, it appears the former couple has set their issues aside to focus on co-parenting Dream.
"Angela and I are both actively co-parenting," Rob wrote on Twitter. "And there are no pending or active custody cases."
Chyna doubled down on the statement.
"Robert and I only concern is what's in the best interest of our daughter that we both equally love," she tweeted. "Additionally, Robert is a wonderful father to our Dreamy."
And, although Rob's Instagram is still inactive, he has begun posting more on Twitter, leading many fans to believe that maybe, after all these years, Rob is beginning to find balance in his life. He even was seen flirting with Love and Hip Hop star, Alexis Skyy, documenting their at-home dinner on social media. The very private dinner came days after Kardashian called Skyy his Woman Crush Wednesday.
So, with this all of this, can we expect a public re-appearance anytime soon? According to big sister Kim Kardashian, yes!
"I think he is going to be [on] a little bit more in the next season," Kim revealed to Andy Cohen during an interview on What Watch Happens Live. "He has his moods. Sometimes he's like, 'Look, I didn't sign up for this' and then sometimes he's like "I'm cool to do it, so.'" 
Perhaps it's just another reason to keep up with the Arthur George sock designer. 
Watch the season 16 premiere of Keeping Up With the Kardashians Sunday, Mar. 31 at 9 p.m., only on E!