Mike Budenholzer's fingerprints are all over the Milwaukee Bucks' transformation into an NBA title contender. The team's turnaround is the result of a series of deliberate improvements in three key areas: 3-point shooting, defensive efficiency and rebounding.
The year-over-year stats in each of these areas are nuts. On their own, they make Budenholzer a candidate to win the NBA's Coach of the Year award. Combined with the Bucks owning the best record in the NBA, they should make him a lock.
Let's start with 3-point shooting.
Year-over-year stat No. 1: Last season, the Bucks ranked 27th in the NBA by sinking just 8.8 3s per game. This season they rank second at 13.3, meaning 13.5 more points per game from downtown.
That sudden influx is driven by Budenholzer's spacey offensive architecture and green-lighting virtually every player on the team. Last season, no player on the Bucks averaged more than five 3-point tries per contest. This season they have three — Khris Middleton, Brook Lopez, and Nikola Mirotic — averaging six or more.
But in a weird way, the Bucks' proficiency from downtown starts with Giannis Antetokounmpo, who has become the NBA's most terrifying interior threat. By pressuring the rim, he collapses the shape of the opposing defense.
More than his predecessors, Budenholzer has exploited Antetokounmpo's interior prowess by decorating the perimeter with a fleet of capable shooters. But none has been more important to the team's success than Lopez.
Here's a sentence that would've sounded absolutely insane three years ago: Lopez is the leading 3-point shooter on the NBA's second-most prolific 3-point shooting team. Coming into Sunday's game against the Philadelphia 76ers (3:30 p.m. ET, ABC/WatchESPN), he has drained 159 triples this season, which isn't only the most on his team — it's by far the most of his career, and more than any center in the NBA. Lopez's shooting pulls away opposing bigs from the basket, which in turn opens up the paint for Giannis.
It's not fair to pair the world's best rim attacker with the NBA's best stretch-5, but that's exactly what Milwaukee has done this season. Lopez gets to launch four 3s per game with no defender in sight, and Giannis gets to rack up 811 total shots in the paint (the most in the league, per Second Spectrum data).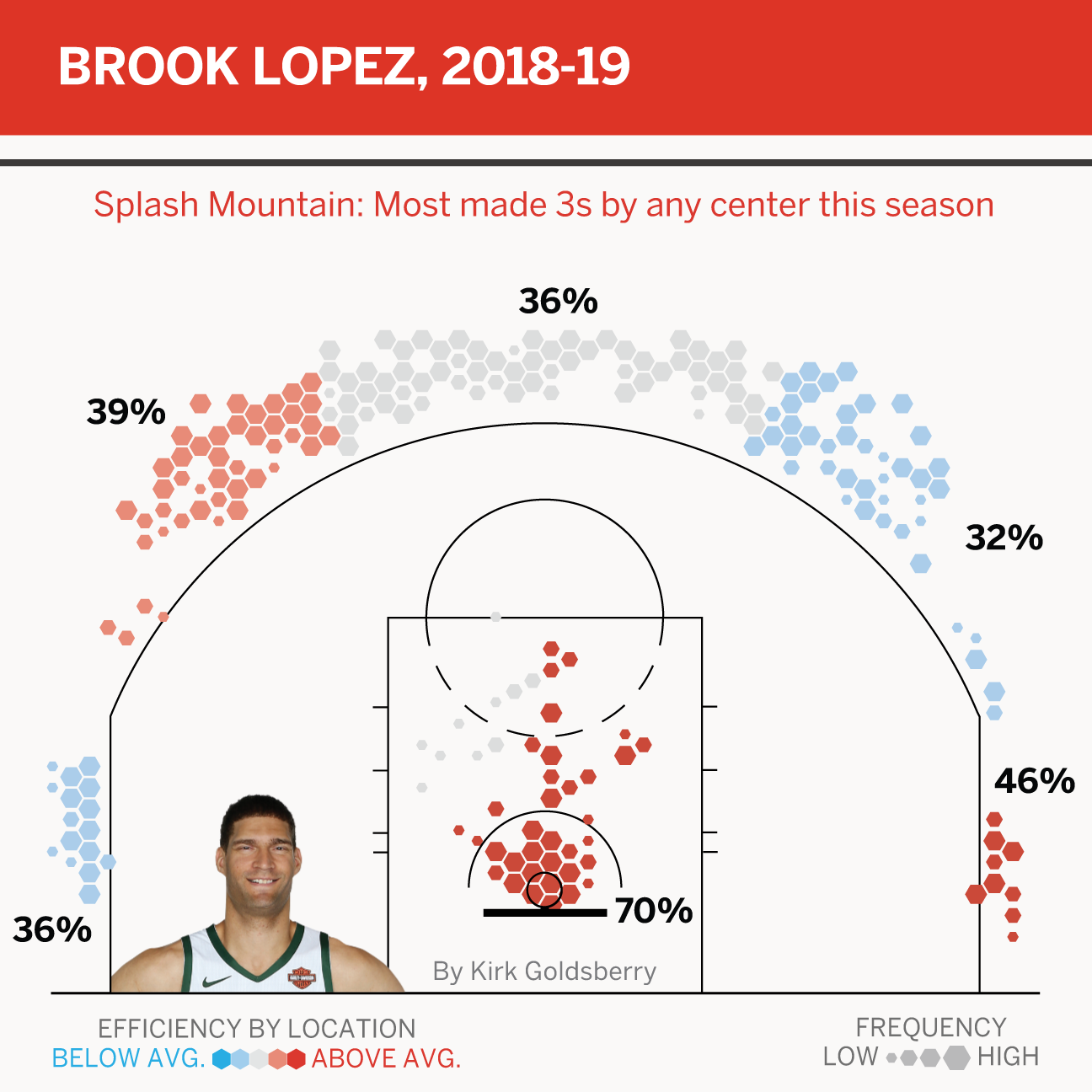 Lopez's transformation is nothing short of amazing. He played six full seasons in the NBA and became an All-Star center without making one regular-season 3-point shot. It wasn't until Jan. 10, 2015, that Lopez made his first career 3 (at age 26).
During the 2015-16 season, just 1.2 percent of his shots came from deep. But the next season that number surged to 33 percent, and by last season it was up to 41 percent. This season, Lopez has taken 66 percent of his shots from 3-point range. Check out this madness:
The Rapid and Dramatic Metamorphosis of Brook Lopez pic.twitter.com/vaU2974xDD

— Kirk Goldsberry (@kirkgoldsberry) March 16, 2019
Perhaps no player in NBA history has exhibited a more dramatic change in shot selection over this short time frame. It has been a truly remarkable metamorphosis that says just as much about the state of the NBA as it does about Lopez.
He deserves a massive amount of credit for reinventing his entire offensive game in the middle of his prime. He is the epitome of the NBA's outward migration of the big man. The 3-point activity of centers is up 500 percent this decade, which is incredible, but it's telling that Lopez's is up way more than that.
There's another hidden perk associated with spacing bigs: transition defense. By littering the top of the arc with players like Lopez and Mirotic, Budenholzer's offensive system is already playing D. Those big, slow dudes get a head start as soon the other team gets the ball. Nobody's giving up fewer fast-break points this season than Bud's Bucks, who yield only 10.4 fast-break points per game. As impressive as the offensive turnaround has been in Milwaukee, the defensive one has been even more dramatic.
Year-over-year stat No. 2: Last season, Milwaukee's defensive efficiency ranked 18th in the NBA; this season it's first.
Budenholzer rearranged the team's defensive principles. They are much less aggressive at the point of attack. Only the Orlando Magic switch fewer picks per 100 possessions this season than the Bucks (4.2), according to Second Spectrum tracking. In 2017-18, Milwaukee had the ninth-most switches with 13.3 per 100.
Their bigs also prioritize defending the interior. Which brings us to …
Year-over-year stat No. 3: Last season, no team gave up more buckets at the rim than Milwaukee, as Bucks opponents racked up 19.5 field goals per game in the restricted area. Incredibly, they've gone from 30th to first in this category. This season they're giving up just 14.8.
Teams know it's a disaster zone inside, so they're hardly even trying. Milwaukee opponents are expected to shoot only 63 percent at the rim, the worst shot quality in the league for that area, per Second Spectrum. And Bucks opponents get to the rim for a league-low 15.3 shots per 100 possessions.
Not only do those sagging bigs protect the rim much better, they're also saving Milwaukee on the glass:
Year-over-year stat 4: Last year the Bucks were literally the worst defensive rebounding team in the NBA. Now they have the second-best defensive rebounding rate in the league, up to 75.7 percent from 70.9. That's crazy!
It all starts with Giannis, who is pulling down more than twice as many boards as any of his teammates. Although he gets a lot more attention for his ridiculous dunks and his scoring stats, Giannis has suddenly become one of the best rebounders in the NBA, ranking fifth in the league in defensive rebound rate. But everyone in the Bucks' rotation is a competent rebounder, and their improved defense is ensuring there are more missed shots available that need collecting.
The Bucks haven't just gotten better, they are suddenly a championship contender. This is the most impactful coaching change since Steve Kerr replaced Mark Jackson with the Golden State Warriors in 2014. Five years later, Bucks fans are hoping for a similar finish. This is all a key reminder of one of the most important things in basketball: coaching matters.