David Fisher/REX/Shutterstock
There was no shortage of royal headlines in 2018. 
What with Kate Middleton and Prince William producing another heir, Prince Charles turning 70 and reminding the world that he'd be the one to don the crown next and Meghan Markle marrying Prince Harry, getting pregnant with his baby and battling a soap opera-worthy cast of relatives through it all, the various members of The Firm tended to dominate the news cycle. 
Of course there were some that managed to fly under the radar. Princess Beatrice, the eldest daughter of Prince Andrew and Sarah Ferguson, Duchess of York, set to slide down to ninth in line for the throne when Baby Sussex makes his or her arrival next month, remained largely quiet. It wasn't until her younger sister Princess Eugenie wed longtime love Jack Brooksbank this past October that royal watchers thought to ask, "Hey, what is she up to?" 
The answer, it turned out, was falling in love. Sometime in September, the 30-year-old royal was acquainted, or perhaps reacquainted depending on the headlines you believe, with Edoardo Mapelli Mozzi, a 34-year-old multi-millionaire property tycoon.
The romance, too new to debut at her sister's all-important Windsor Castle vows, was instead made officially official on Tuesday night when Beatrice, vice president of partnerships and strategy at technology company Afiniti, arrived to a gala at The National Portrait Gallery in London with Mozzi on her arm. As the move would suggest, the pair have reportedly grown quite serious in their six months together with some in the princess' inner circle expecting another royal wedding in the offing. "They've been on holidays together and Beatrice introduced him to Fergie and her dad," an insider told British paper The Sun. "Things are moving very quickly and it wouldn't surprise anyone if they got engaged within a short period of time."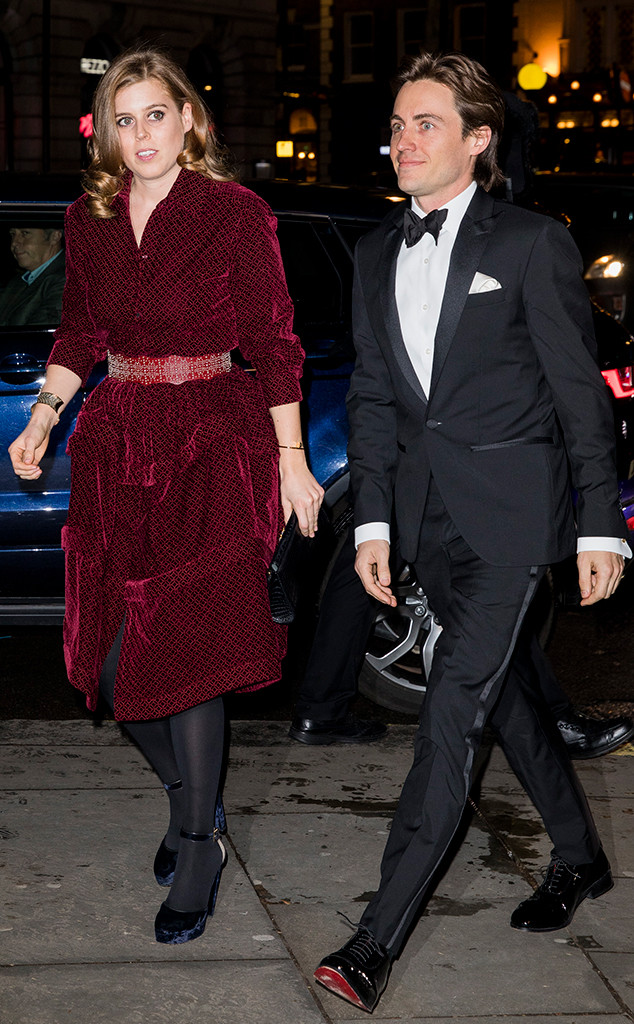 Tristan Fewings/Getty Images
A fast-tracked romance is a fairly dramatic shift from Beatrice's previous entanglements. Save for a brief teenage romance with Paolo Liuzzo that ultimately unraveled when a assault and battery charge stemming from his involvement in the 2002 death of a college student became public, Beatrice spent the whole of her late teens and twenties with former Uber executive Dave Clark. 
A psychology student at Maine's Bowdoin College, and son of a well-off corporate lawyer, Clark's first royal connection was actually William, the duo becoming friends during a study abroad program through the University of Edinburgh. Years later, the future king would introduce his school chum to younger cousin Beatrice at a 2006 party thrown by Pierce Brosnan's now 35-year-old son Sean Brosnan and in a boon to the prince's matchmaking skills, the twosome hit it off immediately. 
As Beatrice studied history at Goldsmiths, University of London, Clark served as head of astronaut relations at Virgin Atlantic and together they built up quite the circle of well-heeled friends, the likes of Ashton Kutcher, Mila Kunis, Ellie Goulding and Karlie Kloss (who inadvertently revealed Beatrice's private Instagram when sharing her own engagement news last year) assuming they would one day be dancing alongside Queen Elizabeth II at the couple's wedding.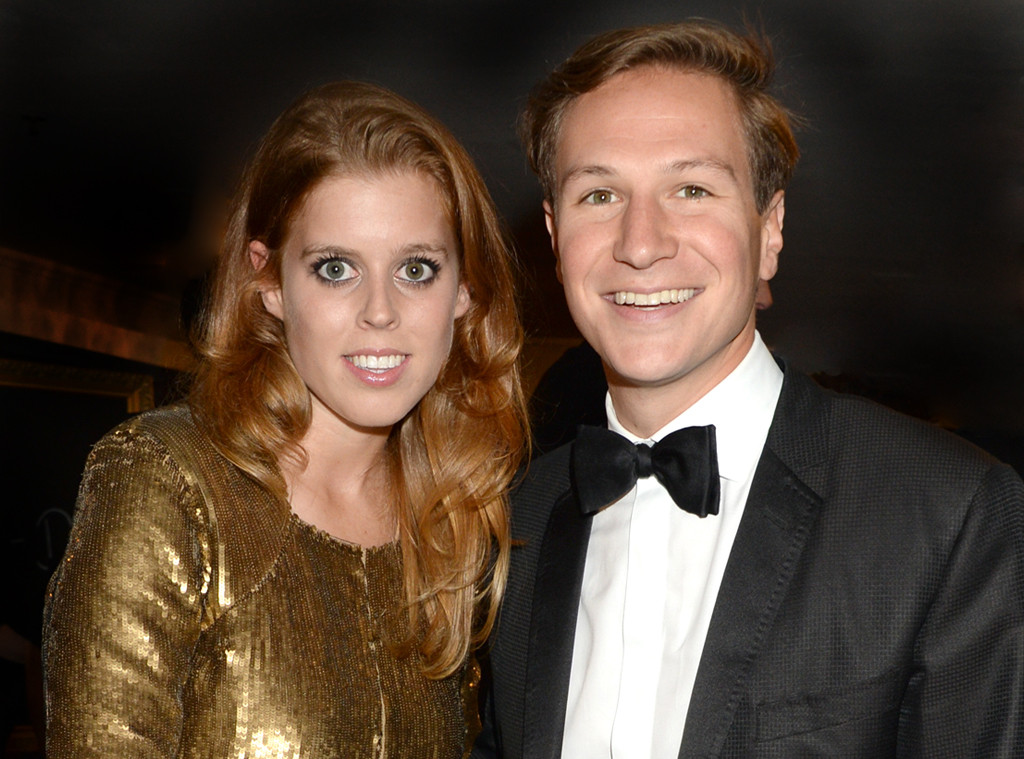 Dominic O'Neill/Boodles Boxing Ball Committee via Getty Images
Clark also became a fixture at such key events as the Royal Ascot and London's Chelsea Flower Show and even joined the philanthropic-minded Beatrice as she ran the London Marathon while tied to some 36 pals all wearing matching neon tutus to raise money for Children in Crisis.  
His willingness to so completely attach himself to their eldest child earned Clark the approval of Beatrice's parents Andrew and Sarah, the latter of which is so close to her girls they often refer to themselves as "the tripod." 
Sharing she had dubbed him "Mr. Smiley" due to his tendency to maintain a sunny disposition and, well, smile a lot, Sarah told People in 2008, "I love Dave. He's cool. I'm really proud that he's with Beatrice." The way she saw it, the author explained, "Beatrice is so special, it takes someone very nice to be with her—to appreciate how good she is."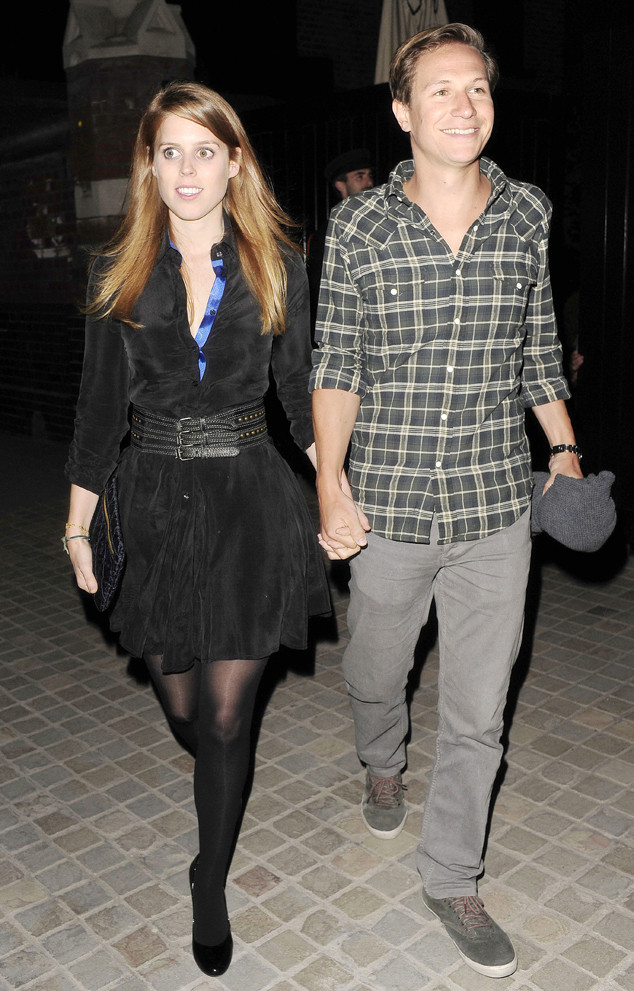 Xposure/AKM-GSI
Along with her intelligence, generosity of character and affinity for the arts, Beatrice also proved to be a devoted, loyal girlfriend. When aviation and aerospace specialist Clark scored a gig as head of external affairs at Uber in 2015, the royal, an international production analyst at Sony Pictures Entertainment followed him, first to San Francisco, where she enrolled in a business course, and then New York, gaining employment at investment banking firm Sandbridge Capital. 
But just when tabloids began predicting an engagement was in the offing, speculating he was waiting until after Princess Charlotte's birth to propose, her May 2015 arrival knocking Beatrice down to seventh in the hierarchy, therefore relieving Clark the responsibility of gaining the reigning monarch's permission to marry, they broke up instead. 
Initial reports hinted the summer 2016 split would be temporary, akin to William and Kate taking a breather before they ultimately reunited and set about their course as England's future king and queen.  
"It is very much a break. It is amicable and mutual," an insider insisted to People. "They both need space after a period of ten years to see what they both want." 
While her family was said to be shocked by the turn of events, all involved parties remained hopeful that this would just be a blip en route to a happy ending. Says the insider, "They are both open-minded about what might happen in the future."
Except what happened was that Clark crossed paths with advertising executive Lynn Anderson and proposed within a matter of months, the couple marrying in an Italian extravaganza just months before Eugenie's vows at the same five-star resort where Justin Timberlake and Jessica Biel chose to marry. 
Perhaps wisely, Beatrice, who splits her time between New York City and London, spent the weekend on holiday with her mom in the South of France. 
Though the end of her decade-long romance was said to be on the best possible of terms considering how tough it is to unravel 10 years worth of shared experiences, Beatrice still found herself in the unique position of navigating the landmine-filled dating scene for the first time in her adult life. Not only was she forced to contend with the same trivialities that plague any twentysomething, she had to do go about the business of love knowing full well countless royal watchers would weigh in. 
"Growing up in the media, it's…interesting," Beatrice shared in the September issue of British Vogue, the sisters choosing to grant a rare interview in light of a milestone year that saw Eugenie celebrate her wedding and Beatrice her 30th birthday. "We've had some serious grounding from our parents. They've had their fair share of terrible media interest and it makes us stronger. We believe very strongly in who we are, and the support system of our friends and our family is pretty incredible. There's no point being angry with anyone for beating us up—we just need to shine light and love in the world."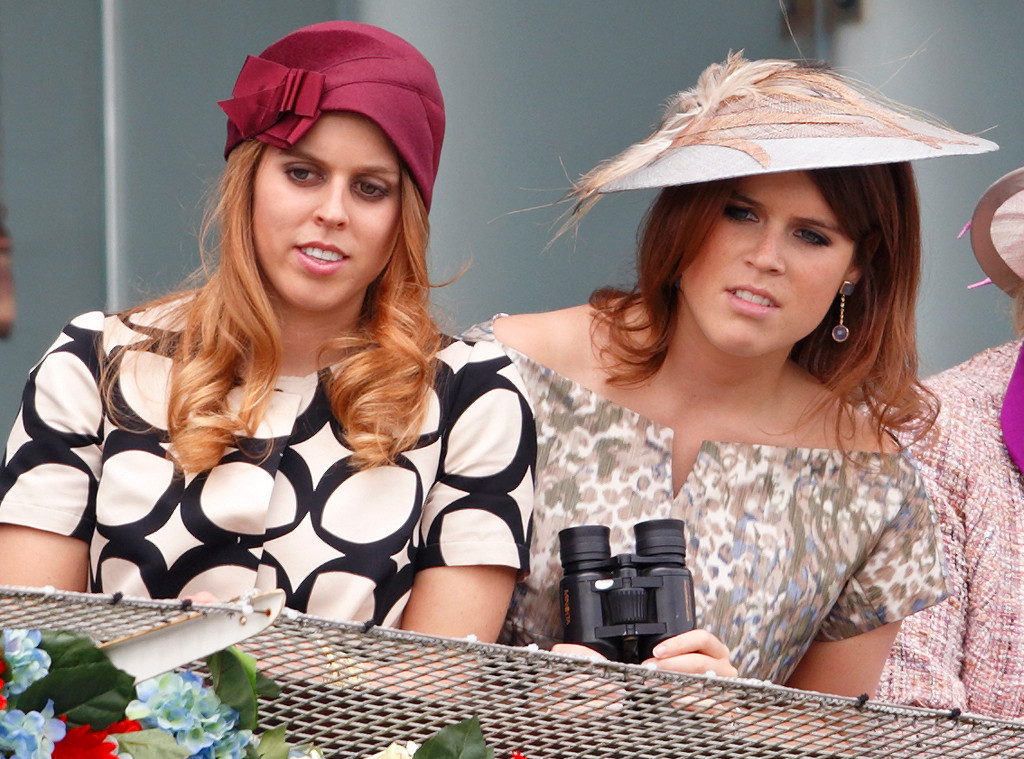 Max Mumby/Indigo/Getty Images
So when the press invented a relationship between her and personal trainer and business consultant James Williams last February, two friends choosing to have a meal together often all it takes for well-known names to reach confirmed couple status, she let it roll off her back. Williams' actual girlfriend, onetime Bachelor contestant Lucinda Aragon was actually the one to shut down the rumors explaining it was just a case of a pal offering up a ride.
"They're just friends," Aragon, a self-described free spirit who competed for Juan Pablo Galavis' affections explained to The Sun. "They've known each other for a long time. They were at a group dinner and everyone else was like: 'We are not gonna get photographed.' So James was like: 'I'm not going to leave her by herself.' He's a very nice guy." In fact the rumors that had popped up after Williams was spotted piloting the princess in his six-figure Bentley had left her more amused than annoyed: "We're just having a really good laugh over all the comments." 
Beatrice also didn't speak out when she was paired off with Wilfred Frost, the CNBC host and son of actor Sir David Frost later that month. While it remains unclear if the duo's outing to The British Heart Foundation's Beating Hearts Ball was an actual date or just a friend filling in as plus-one to a black tie affair, by this past fall Beatrice was decidedly single. 
According to People she and Mozzi had run in the same social circle for years, Beatrice even attending the 2011 funeral for his step-father, lawmaker Christopher Shale. A close friend of both her parents and former British Prime Minister David Cameron, Shale died quite unexpectedly of natural causes at the Glastonbury music festival.
So while Beatrice and Mozzi might not have necessarily needed an introduction (and the whole meet the parents process was likely more akin to, hey, remember this guy?) The Sun's source said they were reconnected "through a mutual chum," and that the two "hit it off instantly and have a real laugh together."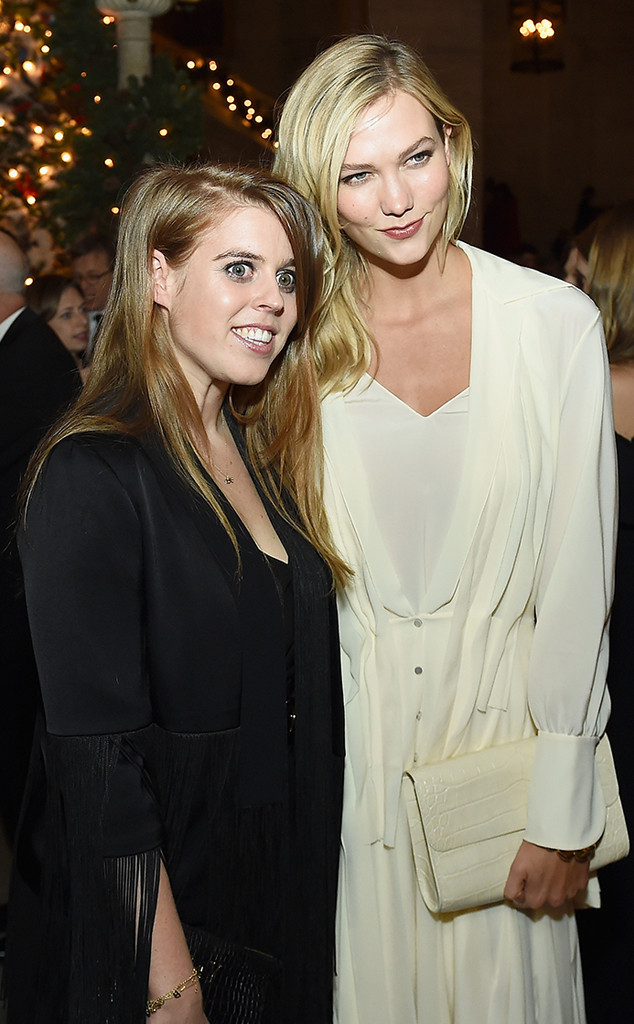 Ilya S. Savenok/Getty Images for Berggruen Institute
The duo, spotted strolling across a Kenyan beach in January, also have a shared connection to philanthropy. Along with Bando, a property development company he founded in 2007, Edo, as he's known to pals, also created Cricket Builds Hope, a charity that uses the British game as a tool for positive social change in Rwanda. As a royal, naturally Beatrice is the patron to a handful of organizations, including the Helen Arkell Dyslexia Centre, which helped her deal with the affliction in her teenage years. But she's also attached herself to the Be Cool, Be Nice campaign against cyberbullying—an area she's doubtlessly well-versed in, and co-founded Big Change, an organization aimed at promoting youth projects, with friends Sam Branson and Holly Branson (the offspring of billionaire business magnate Richard Branson). 
Both halves of the couple are also a soft touch when it comes to their family. While Mossi shares his one-bedroom London flat (so innovative it was featured in House & Garden) with Wolfie, his young son from a previous marriage, Beatrice has dedicated a fair amount of her public remarks to gushing about her kin. 
While in Toronto in October 2017 to support WE Day, held in connection with cousin Harry's beloved Invictus Games, she spoke to Hello! about the role her mom and grandmother have played in shaping her world.  
"They are both formidable women," she said. "I think having female role models is incredibly important and I am very lucky that I happen to be related to these two incredible women. I find my grandmother inspiring every day because her overwhelming sense of duty is linked with an overwhelming curiosity. Every day she's curious to learn something new, to do something new and I think that at 91 years old, she goes out into the community with a genuine curiosity as to how she can be a force for good in the world. She also looks for ways in which she can inspire communities, and I admire the way that she works so hard."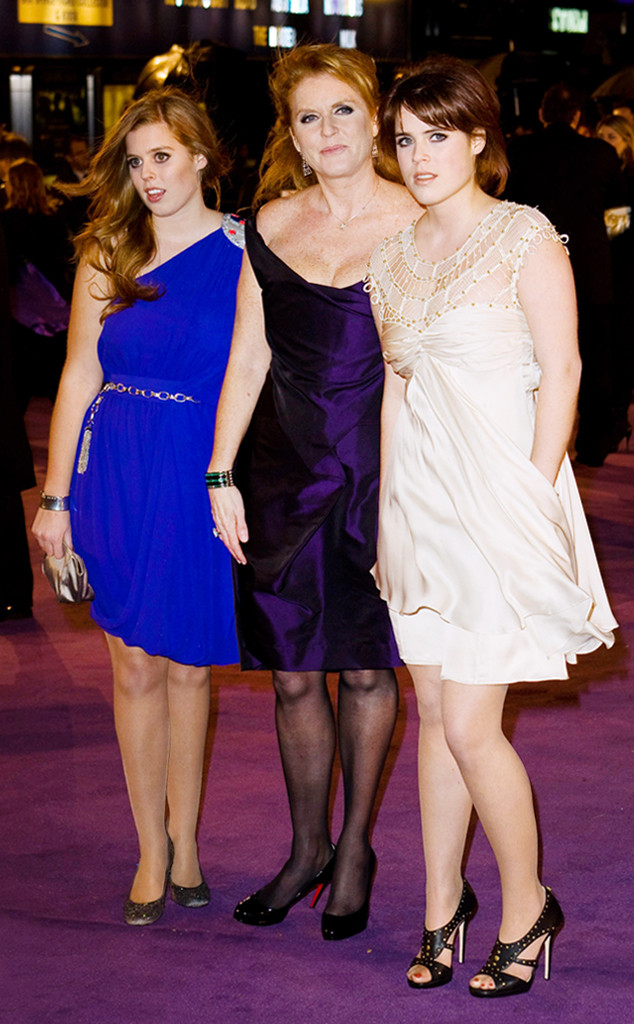 Mike Marsland/WireImage
As for her mother, "probably one of the most misunderstood women in the world," she's dealt with more than her fair share of stressors, noted Beatrice, "and every single minute she created joy. I am so lucky that I get to learn from her every single day. I'm inspired by her ability to give, even when she's going through something hard. Her grandmother always said, 'When you feel bad about yourself, go out there and do something for somebody else.' That's an incredible motto that my family has always lived by. My mother is just remarkable."
Fortunately for Mozzi she seems to approve of her daughter's suitor, showing her support by giving him a follow on Twitter.
And the fact that Beatrice is even willing to go fully public with another romance proves just how much the CEO means to her. As she put it to British Vogue, "It's hard to navigate situations like these because there is no precedent, there is no protocol. We are the first: we are young women trying to build careers and have personal lives, and we're also princesses and doing all of this in the public eye."
At the time she was talking about posing for the fashion mag, putting herself and her sister up for further dissection. Though what's modeling a set of voluminous Richard Quinn foil gowns in comparison to falling in love as the whole world watches and judges?