Rob Latour/REX/Shutterstock
For months Nikki Bella was dealing with an internal wrestling match. 
She had finally made the incredibly tough, incredibly painful decision to call off her planned fairytale vows to John Cena, accepting that he wasn't going to change his mind about having kids in the future only to have him reveal he was ready, willing and able to be a dad. And while that admission should have left her eagerly scrambling to pick up where she left off in putting together their May nuptials, she realized she still felt torn. 
The crux of the issue, she determined, is that she'd spent so long worrying about what John did or didn't want that she'd kind of forgotten to check in with herself. "I think when you sacrifice for so long and it's like you can give so much and then you kind of get tired of giving," she opined during an appearance on Today, "and then someone wants to give it back and you just start to feel exhausted."
So she ripped off the Band-Aid for good, feeling crushed, but at peace with her final decision. "It just sucks," she lamented to twin sister Brie Bella on Total Bellas' season three finale this July. "I wish it could be different and I think that's why I've had almost six years of working on us and fighting and just talking a lot. I just feel like I've hit the point that I'm just so exhausted and done."  
Done with both her engagement and with the whole romance thing in general, as it turned out. Single for the first time in six years, she wasn't pushing herself to dive back into the deep end of the dating pool. "It feels like, you know, when you get married and the next day people are like, 'When are you having kids?' and it's like, 'I just got married,'" she explained to People in October of her hesitance. "I feel like it's the same thing. When you become single, it's like, 'Oh, are you dating?!' Honestly, I'm so not interested. I'm just not ready yet."
In other words, she wasn't about to accept Peter Kraus' rose. She agreed to be set up with the Bachelorette's most beloved runner-up even lingering for some five hours over wine and a romantic gondola ride. But she wasn't about to reciprocate the 33-year-old's lean-in-for-a-kiss move, shouting "No!" as he got closer. "Sorry, you caught me off guard," she explained. "At first, I thought you were going to tell me something and then I was like, 'Oh wait no. He's going in for a kiss." 
It's not that the WWE Superstar was necessarily turned off by the personal trainer who initially transfixed Rachel Lindsay and is so appealing eager Bachelor fans sweat through 50 minutes of burpees and squats at his bootcamps just to get a glimpse at his six-pack abs. "He is very good looking and a great guy," she told E! News, "like super sweet, he's attentive, he pays attention to detail." She even acquiesced that his thoughtful gesture, sending of her beloved black licorice on the market, "was just like the cutest, sweetest thing ever," allowing, "I have to give it to Peter, he's really smooth."
She just wasn't in the headspace for digital flirtations and awkward getting-to-know-you dinners. Asked at Z100's Jingle Ball this December about her new single life, she admitted to E! News, "Oh, it's you know, it's not going well, I guess. But I guess I'm not really looking." 
Turns out there was no need—because sometimes the right relationship finds you and pulls you back out onto the dance floor. Because now, a source reveals to E! News, the 35-year-old is taking romance with Artem Chigvintsev for a spin. She and the Russian-bred ballroom pro, 36, were first partnered up on Dancing With the Star's 25th season in 2017 and though they didn't win the coveted mirror ball trophy, they may have found a better prize. Having remained in touch post-elimination, the pair began hanging out following Bella's summer split—in the Total Bellas trailer she confesses to him that she's "single" while giving him the definitively flirty hair flip—and are now casually dating. 
"They've been spending time together for a long time, but it's nothing serious right now," an insider told People. "They have a strong attraction to each other, but they're just having fun. They're both extremely busy with their own careers, so they spend time together when they can."
Or, as the Belle Radici winemaker put it to E! News, "I'm enjoying being single." 
In other words, Chigvintsev wasn't the one escorting her around on Valentine's Day—that honor belonged to brother-in-law Bryan Danielson, who she told E! News "wanted to include me" in his Feb. 14 date with Brie and their 22-month-old daughter Birdie—but he certainly hasn't been a stranger. 
"He's been another one on my little dating circle," Nikki explains to E! News. "I've been to dinner with him before, but it's just different now." 
The vibe appeared decidedly romantic when the former dance partners split wine and appetizers during a late February outing to Wally's Restaurant in Beverly Hills. Even more so at their Joan's on Third lunch date this past Saturday. 
"She made goofy faces at him and used her fork to tap his nose playfully. At one point she got up and leaned across the table to kiss him," an insider told E! News. "When they left he wrapped his arm tightly around her and she grabbed his hand. He opened the car door for her and helped her get in."
And their good times continued into Sunday, Nikki surprising her Instagram followers by pulling Chigvintsev into a live video and sharing he'd be helping her tweet about that night's Total Bellas episode. "I have a special guest who had a really fun Sunday fun day with me," she shared of an afternoon spent enjoying non-alcoholic beer and ramen. 
She's certainly earned a bit of levity. For most people, going through a break-up ranks somewhere below getting a root canal and being audited by the IRS on list of things that are super desirable. Not only did Nikki endure a very public split less than a month before her wedding, but then she got to experience it on a seemingly endless loop as she geared up to promote her reality show's third season, which focused largely on the painful unraveling of her relationship. 
"It's going to be definitely difficult to relive," she admitted to E! News at the 2018 NBCUniversal Upfront May 14. "I've already seen some of the episodes and it's crazy because I just kind of see myself falling apart. And I think when you look at yourself as such a strong woman, you think, like, 'I don't have these down days.' Or, 'There's no way I could have a breakdown.' And, yes, you can. And that's just, that's life. And so I'm even learning from myself as I'm watching myself."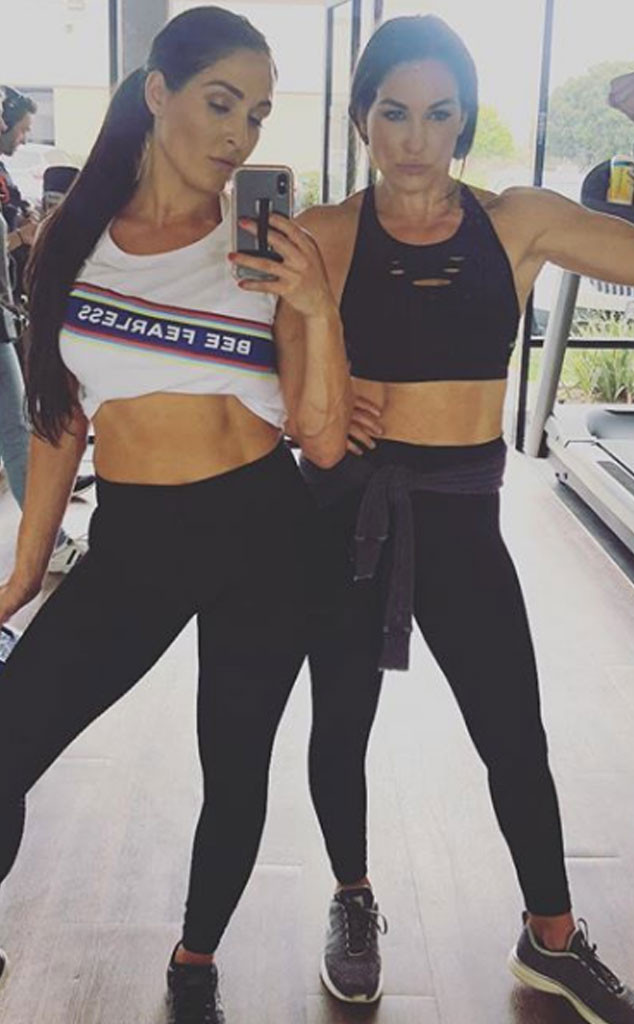 Instagram
Inward reflection is great and all. But having to rationalize to everyone who asked (and that number wasn't exactly small) why she decided to end things with the wrestler turned actor after he poured his heart out on Today, well, that was downright agonizing. (Imagine for a second that all of your friends took your ex's side in a split and harassed you about your decision at every turn.)
Worse yet, were the fans that assumed the issues were simply a storyline dreamt up by producers. "When everyone was saying what I was going through was fake for ratings and all that, and when you're really going through it, it's like, you're just, in my heartache you're literally just knifing it and just churning it," she lamented in an October interview with Cosmopolitan. 
So you could understand why, at that point, she was just over it. Done revisiting those painful emotions, done offering up an explanation for why she refused to commit to forever when she had doubts about next year and, most of all, done even uttering the name John Cena.
"We both are at the point that we just don't want to be talked about at all together anymore," she explained. "We don't want our breakup to define us or interfere with our work. And that was happening for a while." 
And not that the Arizona native ever needed a man to make her feel whole, but over the years she's accrued many more interesting descriptors than fiancée. Her WWE superstar status has long since transcended the ring with nearly a million viewers tuning in to see her and Brie on both Bellas, and the original WWE reality hit, Total Divas. Together, they also have their wine brand, a line of women's empowerment-focused clothing called Birdiebee and a YouTube channel with close to two million devoted subscribers.
"I don't want my relationship to define who I am, as a woman," she stressed. "And to take away all the hard work that I've ever done in my career." It's a problem her ex hasn't really been forced to face as he continues to churn out films and notch appearances in the ring.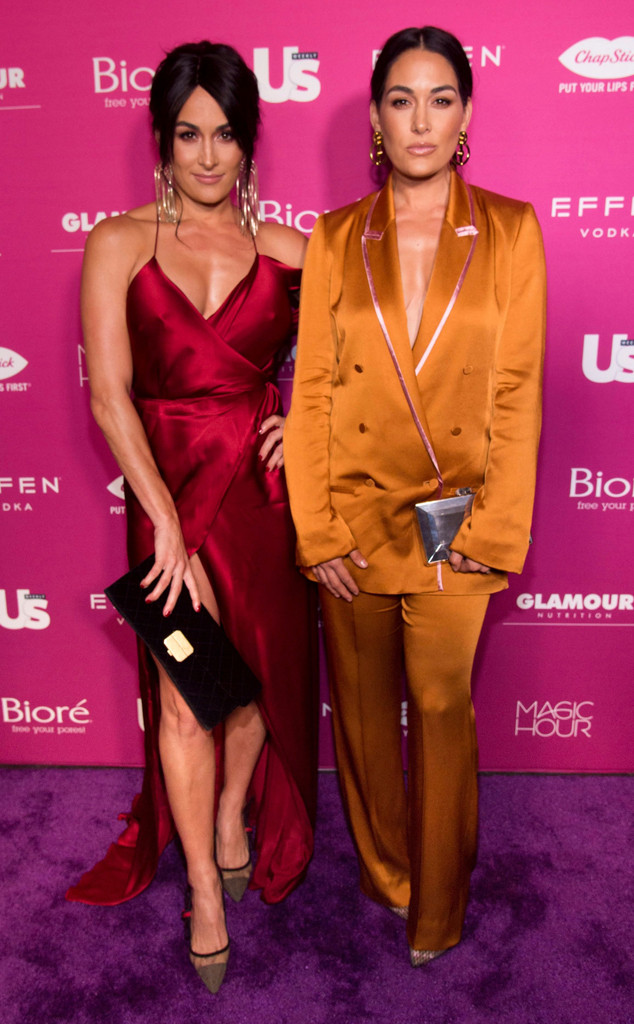 Scott Roth/Invision/AP/REX/Shutterstock
"I think for a man, it's different," she reasoned. "I feel like, if anything, the woman gets blamed for what happens, for taking away from what they do. But I get all my work taken away because of that. I don't know, I feel like sometimes there's a double standard and I really have felt that. And it's been really, really hard."  
But if others are going to strip her down, she's going to put in even more effort to build herself back up. Now working with a life coach, she's honing in on self-love, a practice, "I lost for so many years," she admitted. "That was all my fault. I'm the one who forgot about me. I have realized now to truly have a happy life, you have to give yourself so much love first and work on you in any way you can." 
Thriving in one of the most successful stages of her career to date, "I just feel like I'm at that age where I'm discovering who I really am and what I want out of life and just, like, independence," she told ET last September. "It is scary and you do have these moments of like, 'What am I doing?'—and fear. I just kind of am liking the challenge." 
Because it's not like she's sitting home alone at night, lamenting over lost love. "I'm really enjoying being an entrepreneur [and] I'm very excited for my comeback at WWE," she said of her return after a three-year hiatus prompted by a terrifying neck injury. "I just have this goal in my head of what I want to conquer as an independent woman and I'm going to get there." 
And once she truly figures herself out, she knows she'll be an amazing mate to the right guy. "You're better in a relationship when you fully have that self-love and love yourself and know who you are because then you're just so confident in that relationship." 
Whether Chigvintsev is that lucky guy remains to be seen. As Nikki put it during a January appearance on Daily Pop, she's "kind of playing in my Crayola box" and well "on my way to taste all the flavors."
We'll allow the mixed metaphor—the girl just wants to have some fun and take her time before diving into what could be another longterm romance. It's not as if she's ever been the type to depend on a man to feel fulfilled. "She is focused on moving forward with her life," an insider tells E! News. "Nikki is really good, actually. She's in a good headspace and is just…happy." 
Watch a brand new episode of Total Bellas Sunday at 9 p.m., only on E!