ARLINGTON, TEXAS — Mikey Garcia, having already won world titles in four weight divisions and universally regarded as one of boxing's best fighters in the world pound-for-pound, wanted more.
Garcia wanted a title in a fifth weight division. He wanted a big seven-figure payday. And he wanted to test himself against another elite pound-for-pound fighter because he wants to leave a rich legacy in the sport and punch a ticket to the International Boxing Hall of Fame.
And welterweight world titlist Errol Spence Jr., also one of the best pound-for-fighters in the world, has been avoided by most of the top fighters in his division and was also in search of a major fight.
So when Garcia (39-0, 30 KOs), to the shock of many, called out Spence (24-0, 21 KOs) even before Garcia unified lightweight belts against Robert Easter Jr. in July, Spence answered the call. Of course, he would accept the challenge from a smaller man he is heavily favored to defeat.
But there is intrigue. Boy, is there intrigue, because it's not too often that two elite fighters, both undefeated world titleholders on the pound-for-pound list, and with crowd-pleasing styles, are willing to fight each other.
So Garcia, who still owns a lightweight belt, will dare to be great. He will move up two weight classes to challenge Spence in a highly anticipated showdown on Saturday (Fox PPV, 9 p.m. ET) at AT&T Stadium, the home of the Dallas Cowboys, which will be hosting its fourth boxing event, having previously had two Manny Pacquiao fights and a Canelo Alvarez bout.
"All the attention and buzz about this fight is for real. It's not often you get a fight like this," Garcia said. "We got two of the best pound-for-pound fighters, undefeated champions in their prime facing each other."
Said Ringstar Sports CEO Richard Schaefer, one of the promoters of the fight: "As we all know, there are two sayings in boxing. The first one is, a great big man always beats a great smaller man. If that holds true, Errol Spence Jr. will be crowned in Dallas. But there is another saying, made famous by none other than Floyd Mayweather, that skills pay the bills. And if that holds true, Mikey Garcia will be crowned."
This is your Ringside Seat for the fight:
Pound-for-pound debate
There is little question that Spence, who will be making his third title defense, and Garcia, who has won world titles at featherweight, junior lightweight, lightweight and junior welterweight, rank among the elite fighters in the world.
According to the ESPN poll, Garcia ranks No. 5 and Spence ranks No. 6. For that reason alone it makes their fight extremely significant. Both fighters believe that a win over the other, given their stature, should vault them to No. 1.
It remains to be seen if that would be the case, especially if Spence wins because, well, he's supposed to. But Spence, 29, from the Dallas suburb of DeSoto, Texas, is convinced he should be elevated with a victory in front of his hometown fans.
"This win makes me pound-for-pound No. 1," Spence declared. "Mikey has a great record and a big fan base and I feel like winning this fight turns me into a star. Everyone wants to take Floyd Mayweather's place as the face of boxing, and I feel like this puts me on the right track to become the face of boxing and become the No. 1 pound-for-pound fighter in the world."
"This is a legendary fight. This is where we see what fighters are made of. There have been a lot of great fights when little guys came up and beat a bigger fighter. You can't ever write off the little guy. This is going to be a hard fight."

Errol Spence Jr.
If Garcia, 31, of Moreno Valley, California, wins, he would have a better case to leapfrog those in front of him: Vasiliy Lomachenko, Terence Crawford, Alvarez and Gennady Golovkin. A victory would be historic for Garcia, who would join Hall of Famer Henry Armstrong and obvious future Hall of Famer Pacquiao as the only former featherweight world titleholders to also win a belt at welterweight.
"Getting this victory will forever leave my name in the history books. I'm here to create history. No other fighter is daring to do what I'm doing," Garcia said. "I'm here to make history and this fight does that. I'm about big challenges and obstacles.
"Saturday night I will become a five-division champion. I will dethrone Spence. I will become the new welterweight champion and that's history."
Garcia is facing his third undefeated titleholder in a row in a third weight class. Last March, he moved up to junior welterweight to outpoint Sergey Lipinets to take his belt. In July, he returned to lightweight and cruised past Easter to unify two titles. Now he's going up two divisions to fight Spence.
"When I took on this fight and I wanted to get this fight, I was not doing it for any reason other than to prove to everybody that I'm the best and that I can fight anybody and I'm not scared to fight anybody even in the welterweight division," Garcia said. "There is no other fighter doing what I'm doing. When you talk about pound-for-pound, well, I'm actually proving it. I'm doing it in different divisions. So I mean that's kind of why people will remember me for, that I was willing to fight anybody in any division."
---
Size matters. Or does it?
Weight classes were created for a reason. Garcia is clearly a much smaller man than the taller, bulkier Spence.
But both men believe it won't be size that makes the difference in the fight but their skills and smarts, and both have plenty of each. They are both experienced with Spence having been a star amateur and 2012 U.S. Olympian and Garcia coming from a boxing family that includes father Eduardo, a noted trainer, and brother Robert, a former junior lightweight world titleholder and one of boxing's top trainers who is Garcia's chief cornerman.
"Size always matters, but when you get in there, at the end of the day, it's about skills and intelligence. I'm not going to rely on size," Spence said. "I'm going to focus on my talent. If I can roll through him, then I'll show my killer instinct and try to get him out of there. I'm going to use my ability to break him down."
Said Derrick James, Spence's trainer: "This fight is all about the skill set, not the size. Size will come into play a little bit, but we're going to show the skill set that we have to beat this guy. That's what Errol is going to show."
Garcia shrugged off the size issue. He said he would likely come into the ring only at about 150 pounds, just three over the 147-pound limit he expects to weigh in at.
"Saturday night, Errol is going to find out why I picked this fight. All of my opponents say they don't see anything flashy, they don't see anything special when they watch me, until they get into the ring."

Mikey Garcia
"I'll probably be where I normally walk around. I'll probably come around 150," he said "I don't think it's an advantage for me to try gain weight or hydrate too much. I don't plan on being big and huge and bulk up like that. I want to be sharp, I want to be quick.
"If people say Errol is bigger, that's just obvious. But who's faster? Who has better timing? There's a lot more that goes into this sport and who's going to win this particular fight."
Spence owns the IBF title and that organization requires a weight check on the morning of a world title bout that is not a unification fight. Neither fighter can put on more than 10 pounds from the weigh-in. So, Spence won't blow up too much overnight. He can gain more following the weight check but said it won't be much.
"The 10-pound limit won't be an issue at all," he said. "I wont get too big. I don't want to be sluggish. I'll probably weight 160 (on fight night)."
Garcia spent five weeks working with Victor Conte, the reformed convict from BACLO scandal infamy, in the Bay Area to put on muscle mass.
"I wanted to make sure that I gained the weight — the right weight — but we also didn't want to lose the speed, we did not want to lose the reaction time, the explosiveness," Garcia said. "And that's what we worked on with Victor Conte. We made a program that could help me to gain a little bit of mass but at the same time, improve my speed, my reaction, my reflexes and all the things that I will use on fight night."
---
Face to face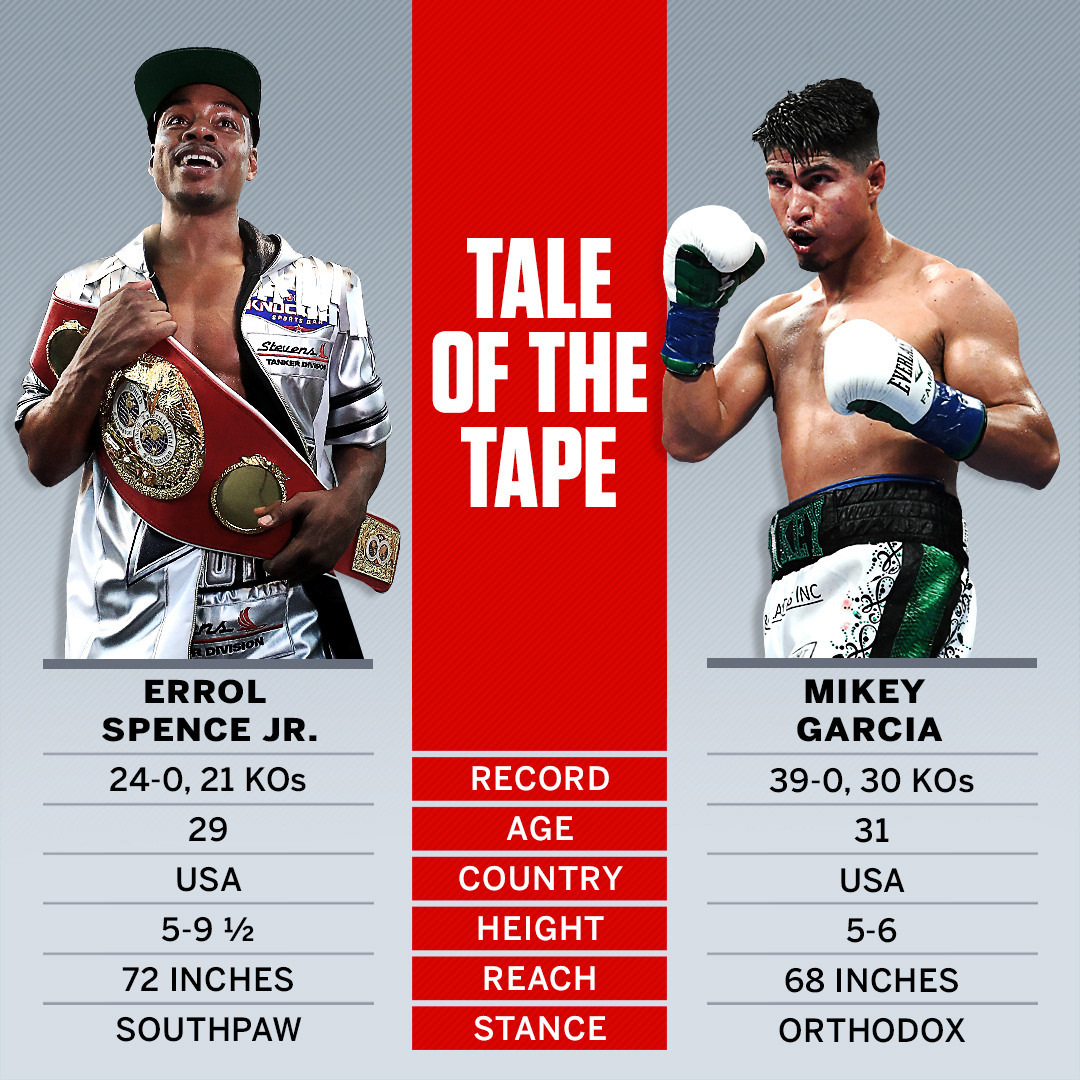 Spence: Has won last 11 fights via KO (third-longest streak among current titleholders).

Spence: Ranks second on CompuBox leaderboard with 48 percent of power punches connected.

Spence: 32 percent of the punches he landed in his last five fights were to the body, according to CompuBox (Garcia: 16 percent in his last eight fights).

Spence: Averages four rounds per fight and has only fought five times past the sixth round (never fought past the 11th). Has fought only one round since Jan 20, 2018.

Garcia: Seeking to become the sixth fighter to win titles in five different weight classes.

Garcia: First fight at welterweight. Averaged 49 punches per round at lightweight and junior welterweight, below the CompuBox division averages.

Garcia: Would become the second man in boxing history to defend/win titles at lightweight and welterweight in back-to-back fights (Adrien Broner in 2013).

Garcia: Is facing his sixth straight opponent who has held a title in his career.
---
He sees something
Mikey Garcia tells Steve Kim about his unique training regimen with Victor Conte as he prepares for Errol Spence Jr.
Many chuckled at first when Garcia called out Spence. Some thought he was just trying to get publicity and would wind up going in another direction. Even his brother Robert said he did not think Mikey should take this fight. Father Eduardo was also not in favor of it.
But Garcia was steadfast. He said he watched Spence fights and believed he saw things he could exploit. He has come off as ultra-confident in the build up to the fight, which, Sugar Ray Leonard, for example, is picking him to win.
"Saturday night, Errol is going to find out why I picked this fight," Garcia said. "All of my opponents say they don't see anything flashy, they don't see anything special when they watch me, until they get into the ring. I know what I have to do on fight night. I know all the work that I put in. I didn't put all that effort in for nothing. Saturday night, I have to execute. Once I get inside the ring, that switch will turn on.
"I have to fight the best fight of my life. If I don't, then I can't overcome the challenge. You don't win a fight with size and weight. We fight smart, we fight intelligently and pick our shots. There are a lot of factors. That's how I win this fight."
Spence dismissed whatever it is that Garcia may have seen in Spence's game.
"I can't worry about what Mikey sees in me," Spence said. "I let my coach worry about it. Everyone thinks they see something looking on the outside, but it's a lot harder once you're in the ring.
"This is a legendary fight. This is where we see what fighters are made of. There have been a lot of great fights when little guys came up and beat a bigger fighter. You can't ever write off the little guy. This is going to be a hard fight."
Spence was happy Garcia called him out because he was having no luck landing fights with the other top welterweights: Terence Crawford, Keith Thurman, Manny Pacquiao and Danny Garcia. "At first I thought he was just chasing my name when he was calling me out. Once it became real, I saw how serious he was. At that point I was very confident it would happen," Spence said. "I'm not the bully here because Mikey really pushed for the fight. The other champions weren't available at the time, plus Mikey is the only top fighter who called me out. I knew this was a fight I wanted."
Spence is a southpaw, which could give Garcia some issues, but not according to Robert Garcia.
"A lot of fighters have problems with southpaws like Spence, but Mikey has a lot of experience facing lefties and I'm confident that won't be a factor," he said. "Spence's style is pretty basic, so it's not too hard to find sparring partners to emulate him. Spence does everything right, just like Mikey. From a preparation standpoint, his style isn't a big challenge."
Rafael's prediction: Spence by late knockout
Your take