Photo: Dean Buscher/The CW
The curtains are about to open on another Riverdale musical production—let's just hope no one ends up stabbed to death again. 
Riverdale's production of Heathers: The Musical takes place next Wednesday, and E! News has your first look at the show, which appears to involve a whole bunch of colorful plaid. 
Last year's musical, Carrie, didn't go so well for either of its leading ladies. Cheryl was supposed to play the lead until her mother forbade her from participating, and then when Midge took over the role, she ended up dead thanks to the Black Hood. With as much murder as there is within the story of Heathers, we will just say we are very worried for this cast. 
The musical is based on the 1989 film Heathers, which starred Winona Ryder, Christian Slater and Shannen Doherty and took place at Westerberg High, a school ruled by a shoulder-padded, scrunchie-wearing junta: Heather, Heather, and Heather, the hottest and cruelest girls in all of Ohio. But misfit Veronica Sawyer rejects their evil regime for a new boyfriend, the dark and sexy stranger J.D., who plans to put the Heathers in their place – six feet under.
Heathers: The Musical ran off-Broadway in New York in 2014 before rising to cult status. A PG-13 version of the show was developed for high schools, which is the version we assume we'll be seeing the kids of Riverdale High perform. 
"Last year, we had a blast doing Carrie. This year, we wanted to honor another iconic teen movie. Heathers: The Musical is BIG FUN, with great roles for the Riverdale kids," executive producer Roberto Aguirre-Sacasa said in a statement back when the episode was announced. "And everyone is singing…"
You know what that means: Get ready to hear Cole Sprouse sing. 
Check out the first look photos below, along with the full cast list.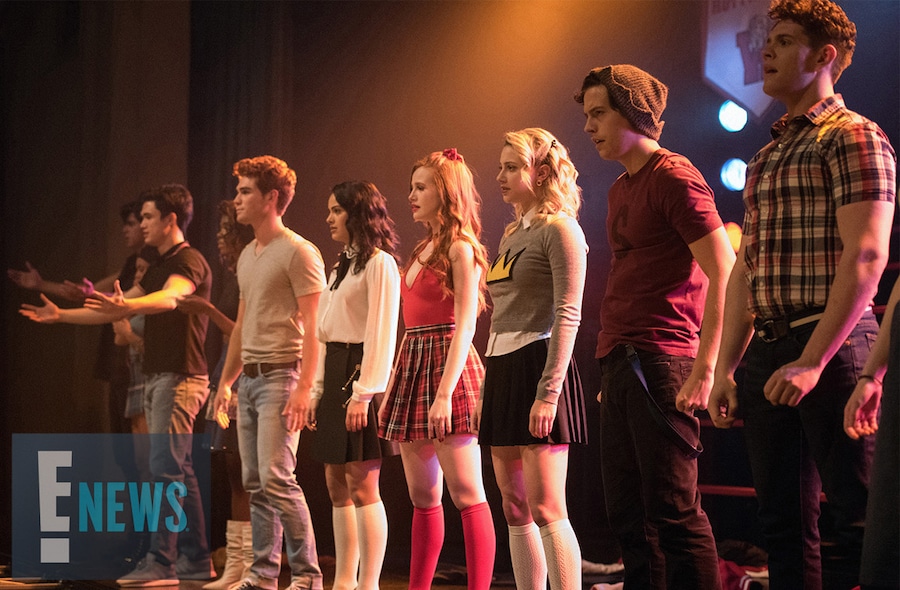 Photo: Dean Buscher/The CW
Rehearsal Time

While he isn't listed on the cast list, we know Jughead Jones will be making his musical debut, and Cole Sprouse is finally going to have to sing. He doesn't look particularly thrilled about it in this still.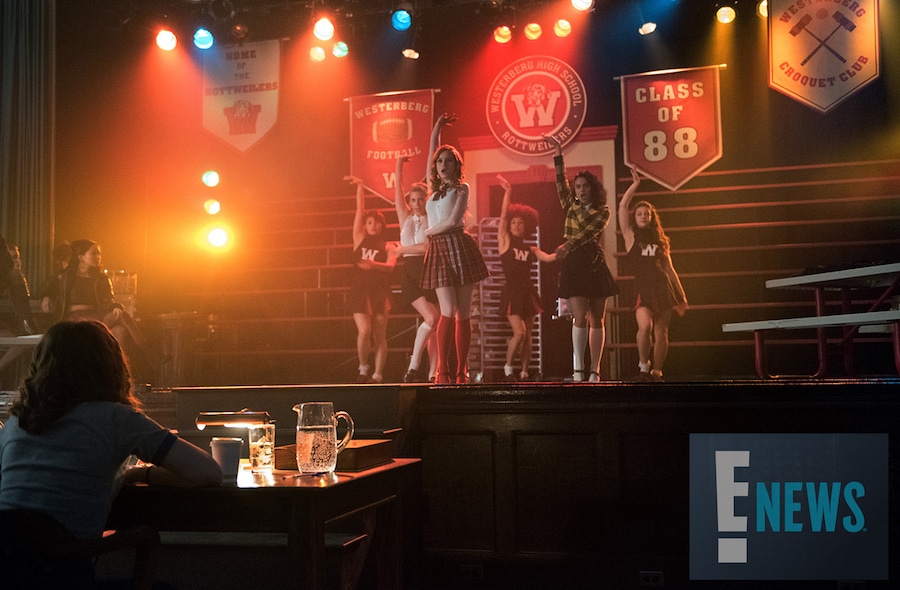 Photo: Dean Buscher/The CW
Go Rottweilers

Cheryl Blossom naturally leads the Heathers in a sultry-looking routine while we're off to join the croquet club.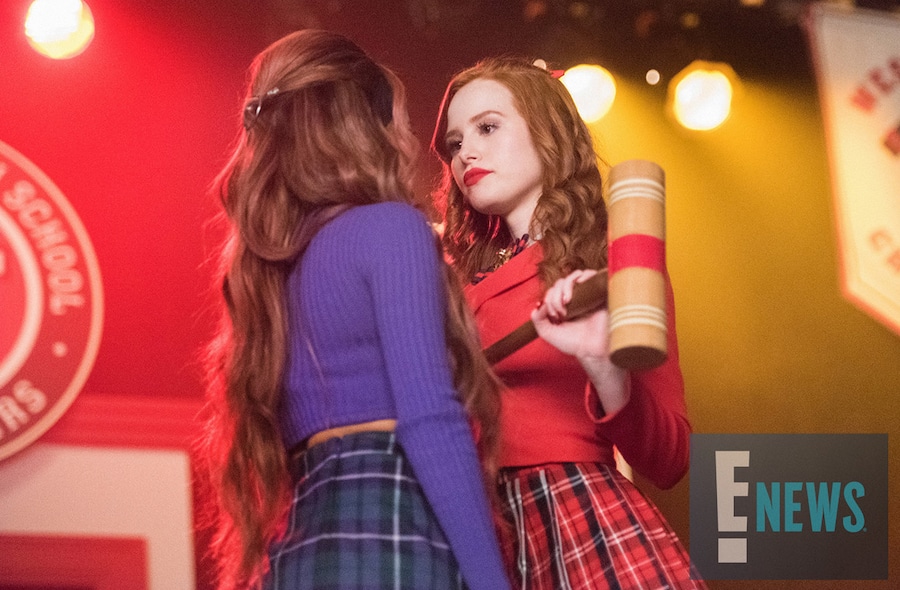 Photo: Dean Buscher/The CW
Don't Cross Heather Chandler

Especially when she's got a croquet mallet in hand!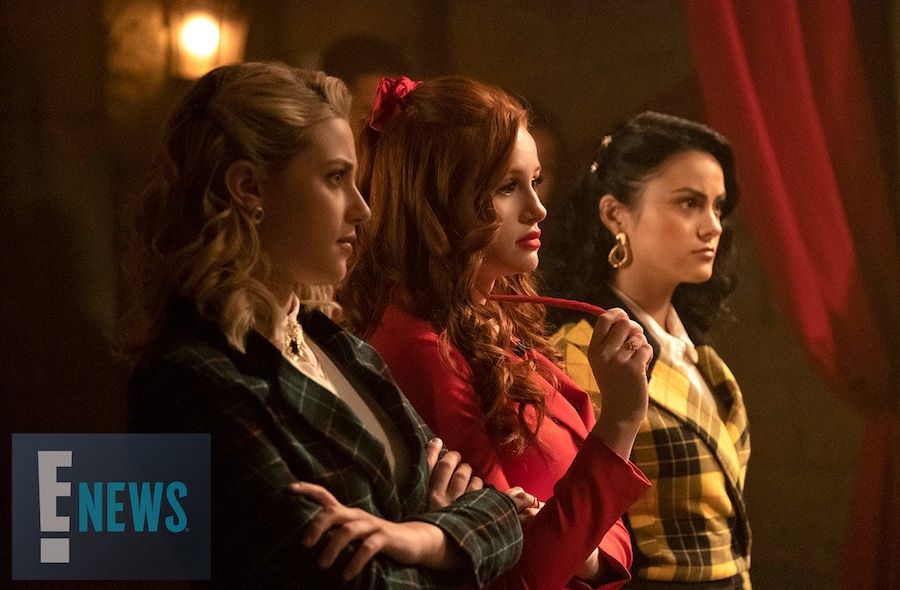 Photo: Dean Buscher/The CW
The Heathers

Cheryl (Madelaine Petsch) plays Heather Chandler, Betty (Lili Reinhart) plays Heather Duke, and Veronica (Camila Mendes) plays Heather McNamara.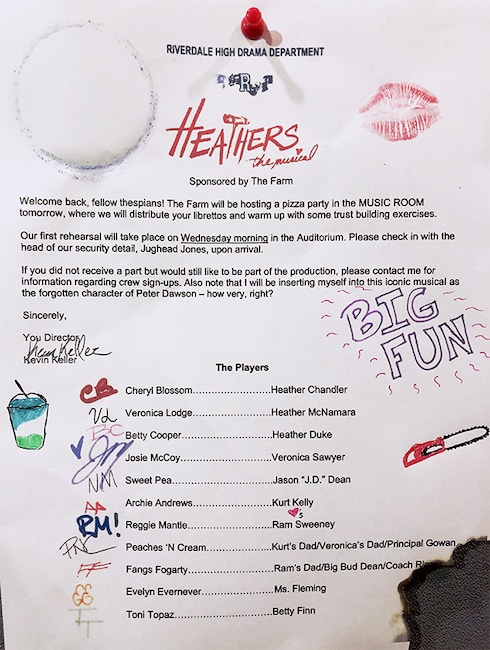 CW
The Cast List

We still can't get over how this whole thing is sponsored by The Farm!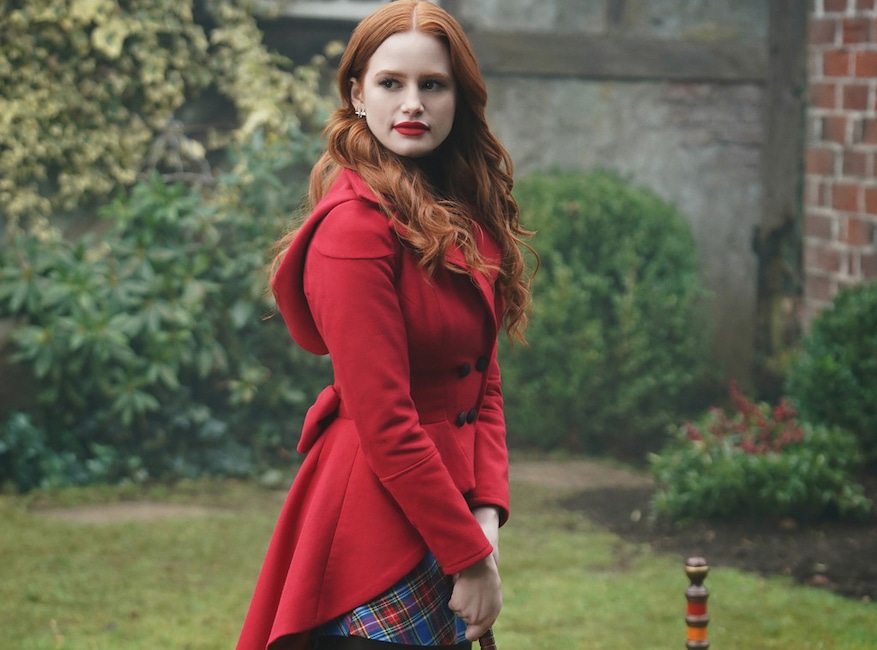 CW
Channeling Heather

In the pic that was released alongside the musical announcement, Madelaine Petsch suits up to inform Kevin that this year's musical will be Heathers and he's the director. That episode airs tonight at 8 p.m. 
Riverdale airs Wednesdays at 8 p.m. on The CW. The musical episode will air next week, March 20.