Amanda Edwards/WireImage, Greg Doherty/WireImage
Felicity Huffman and Lori Loughlin are among over 40 individuals who have been charged in connection with an alleged college entrance exam scheme. E! News has confirmed that 13 defendants were taken into custody this morning in the Los Angeles area, including defendants Huffman and Loughlin. Those 13 defendants will be making their initial court appearances this afternoon.
Court documents obtained by E! News show that both Huffman and Loughlin have been charged with conspiracy to commit mail fraud and honest services mail fraud. According to the FBI affidavit, the scheme involved getting students admitted into colleges such as Georgetown, UCLA, USC, Stanford, University of San Diego, University of Texas at Austin, Wake Forest and Yale.
"Beginning in or about 2011, and continuing through the present, the defendants—principally individuals whose high-school aged children were applying to college—conspired with others to use bribery and other forms of fraud to facilitate their children's admission to colleges and universities in the District of Massachusetts and elsewhere, including Yale University, Stanford University, the University of Texas, the University of Southern California, and the University of California – Los Angeles, among others," the affidavit states.
The document goes on to state that Huffman her spouse, William H. Macy, made a purported charitable contribution of $15,000 to participate in the scheme on behalf of her eldest daughter. She "later made arrangements to pursue the scheme a second time, for her younger daughter, before deciding not to do so," the document reads.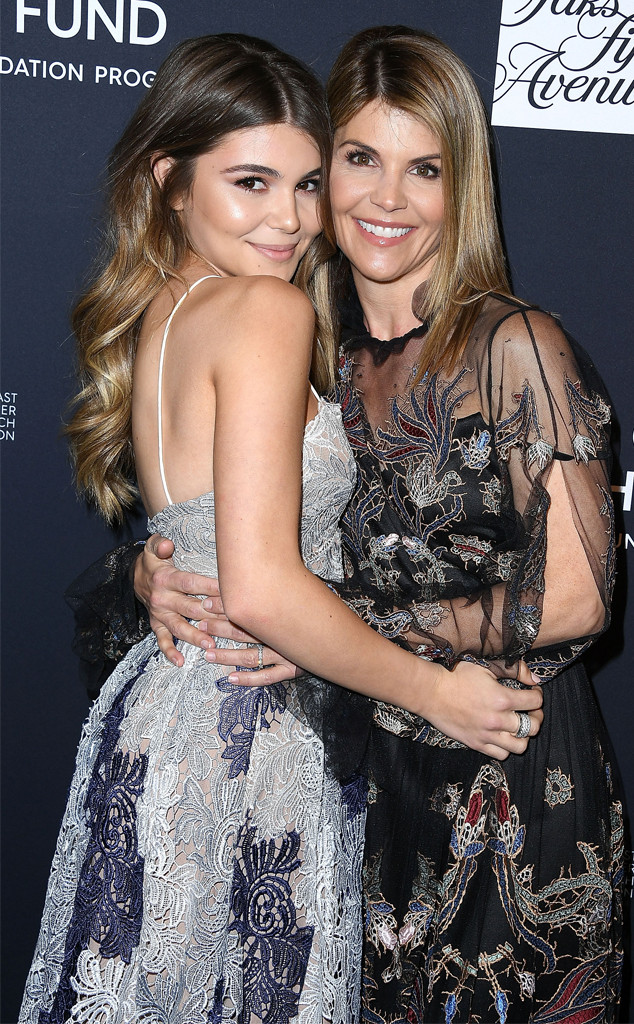 Steve Granitz/WireImage
Loughlin and her husband, Mossimo Giannulli, also have two daughters, including YouTube star Olivia Jade.
It's noted in the affidavit, "The Guannullis agreed to a pay bribes totaling $500,000 in exchange for having their two daughters designated as recruits to the USC crew team—despite the fact that they did not participate in crew—thereby facilitating their admission to USC."
In response to the investigation, USC has released a statement, noting that the school has not be accused of any wrongdoing.
"We are aware of the ongoing wide-ranging criminal investigation involving universities nationwide, including USC," the statement begins. "USC has not been accused of any wrongdoing and will continue to cooperate fully with the government's investigation. We understand that the government believes that illegal activity was carried out by individuals who went to great lengths to conceal their actions from the university. USC is conducting an internal investigation and will take employment actions as appropriate."
"USC is in the process of identifying any funds received by the university in connection with this alleged scheme," the statement concludes. "Additionally, the university is reviewing its admissions processes broadly to ensure that such actions do not occur going forward."
William "Rick" Singer, 58, has also been charged with racketeering conspiracy, money laundering conspiracy and obstruction of justice. According to a Tuesday press release, Singer owned and operated the Edge College & Career Network LLC ("The Key") – a for-profit college counseling and preparation business – and served as the CEO of the Key Worldwide Foundation (KWF) – a non-profit corporation that he established as a purported charity.
The release states that between approximately 2011 and February 2019, Singer allegedly "conspired with dozens of parents, athletic coaches, a university athletics administrator, and others, to use bribery and other forms of fraud to secure the admission of students to colleges and universities including Yale University, Georgetown University, Stanford University, the University of Southern California, and Wake Forest University, among others."