Donato Sardella/Getty Images for REVOLVE
Double the rockers, double the tattoos, quadruple the ladies.
When Good Charlotte first broke out on the music scene in 2000, the twin brothers Joel and Benji Madden at the center of punk band sang all about the unrelatable woes and superficial values of celebrities in Hollywood in "Lifestyles of the Rich & Famous."
The song would become their first hit and—in an ironic twist—make them card-holding members of the rich and the famous, complete with their own A-list celebrity wives at their respective sides: Joel has been married to Nicole Richie for eight years and Benji wed Cameron Diaz in 2015.
Ah yes, it would be such a cliché and classic "sellout" tale if the Maddens, who turn 40 on March 11, weren't such supportive, loyal and private husbands, a far cry from the playboy personas they had over a decade ago. 
Joel's first serious Hollywood romance was one that garnered a lot of attention, as it was with Disney Channel star Hilary Duff. The couple's eight-year age gap raised eyebrows, especially because the Lizzie McGuire starlet was just 16 when they first began dating, though they didn't publicly confirm their romance until later on. 
Given her squeaky clean image and his rocker look, they seemed like polar opposites, an assumption they shot down in a joint interview for Teen People back in 2006. 
"You're automatically prejudging us because Joel has tattoos or I have blond hair," Hil told the magazine, "he has tattoos so he's bad, I smile all the time so I'm perfect."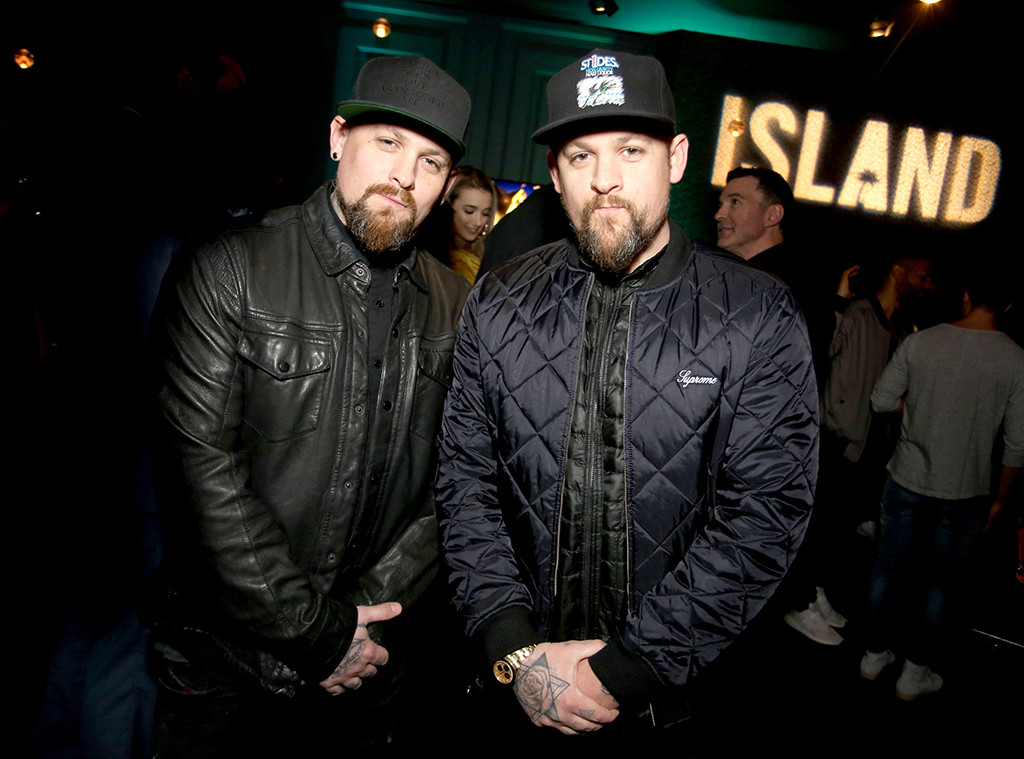 Rachel Murray/Getty Images for Island Records
Madden added, "[People] think I'm this crazy guy. I went to the ATM and this lady backed away, and Hilary asked me, 'What is it like when someone scoots away because they're scared?' I never notice it, she notices it for me."
As far as the public's opinion about their age difference? "I didn't care what the press would say," Joel said. "I cared what my mom would say."
In an interview with People, Joel made it clear the couple was pretty serious, telling the magazine, "I've found the perfect person. She's confident, she accepts me for my imperfections and she is good to me. I never have to question if she's going to be there, because I know she will be."
But after two and a half years together, with Joel co-producing songs on Hilary's Most Wanted album and the twin brothers making cameos in her film Material Girls, the pair split in November 2006, and it was a rather dramatic break-up as Joel began dating Nicole soon after. 
The public split inspired several break-up tracks on Hilary's next album, a fact she didn't hide at all. "I had a pretty serious relationship at a young age that I ended, and it wrecked me for a good year and a half," Duff admitted to Cosmo in 2015.
In 2016, Hilary, now a mother of two, opened up about the relationship on The Love Bomb podcast.
"I was like, 'I get it. Like, I actually get it,'" she said, recalling the first time she fell in love. "It was so all encompassing. It was so intense. It was my life. It was like every minute of my day. It was pretty major."
Back in the mid-aughts, Joel blocked out the attention surrounding the sort-of love triangle, thanks to Hilary's popularity and Nicole's endless tabloid attention, thanks to her time on The Simple Life opposite then-BFF Paris Hilton and partying ways. 
"I kind of ignored it and tried to just continue to live my life," Joel told People in March 2007. "People can say or think whatever they want …so in my reality, it's kind of irrelevant. I'm always the kind of person that does the right thing and keeps my side of the street clean."
And again, he shot down the preconceived notion people have about him based on his occupation and looks. 
"I'm just a really normal, sensitive kind of go-about-my business everyday kinda guy. People see the tattoos, and they either read things or they see things and they don't really know that I'm just this guy that gets up and makes coffee in the morning and hangs out with his friends and walks his dog and reads his Bible and goes about his day." 
And he was about to add "being a father" to his daily activities, as Nicole and Joel unexpectedly got pregnant after a few months together, with Nicole memorably confirming the news during a July 2007 interview with ABC News' Diane Sawyer following her DUI arrest the previous December.
The rumored to be engaged couple welcomed daughter Harlow Winter Kate Madden in January 2008, with son Sparrow James Midnight Madden following in September 2009. 
For Joel, life with Nicole and fatherhood helped "ground" him. 
"They give me a reason to be OK with myself. I don't feel the need to try and prove to the world that I'm anything at all, other than who I am to them," he told The National in 2018. "When I was younger, I think I felt like I needed to constantly sell something. I needed that validation, and that's what my family gave me. It is the first time I've felt good enough."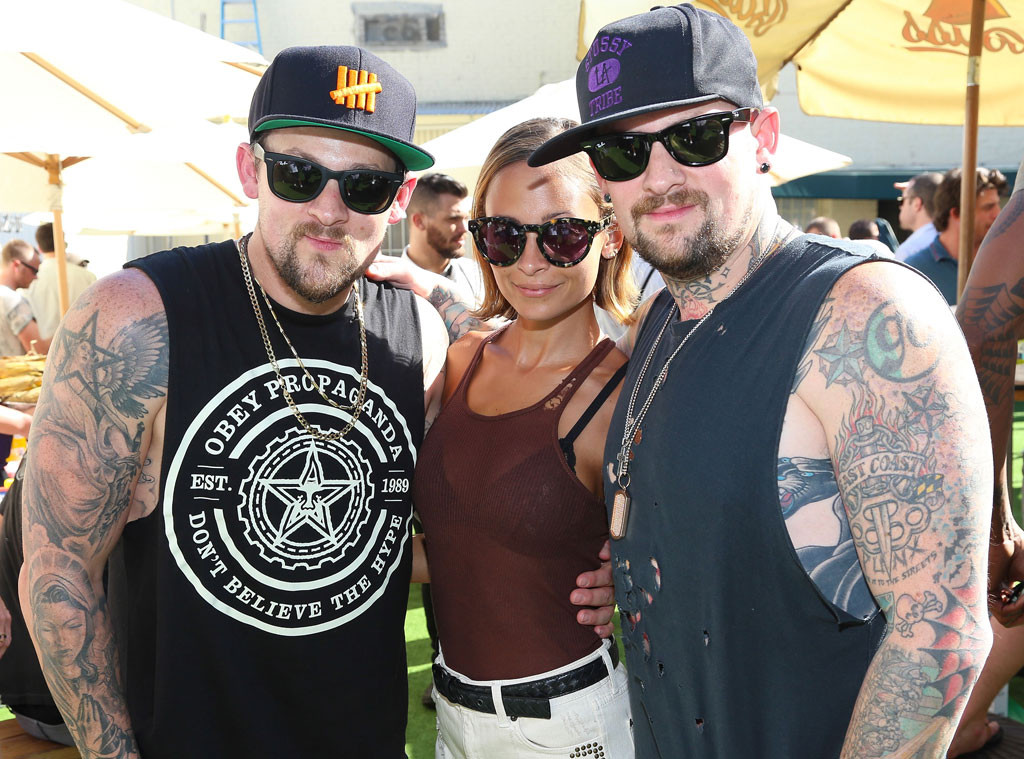 Imeh Akpanudosen/Getty Images
The pair wouldn't get married until December 2010, with Joel later telling the Australian radio show Fifi & Jules, "People don't know this, but I asked her to marry me 10 times before she actually said yes. I was asking every other Tuesday."
And The Voice Australia coach expanded on his proposal when talking to 60 Minutes.
"It was a Tuesday. I just woke up one morning and said, 'You know, we have two kids already,'" he said, "and I was just like, 'What am I doing? I'm a fool. Why haven't I asked her to marry me?' and did it that night."
While Joel joked that he had to ask Nicole numerous times to marry him, his wife told Oprah Winfrey in 2014 that she knew from "day one" that he was her life partner.
"We met and we were partners from day one and from the second we found out we were going to be parents together, we looked at each other and we said, 'Okay, both of our parents are divorced," the House of Harlow designer, 37, said on an episode of Where Are They Now? "We both have had ups and downs with our parents and we don't really have a strong example of what a healthy family life is, but we're recognizing that now, so let's work at it and let's go through this together as a team.' It's been great."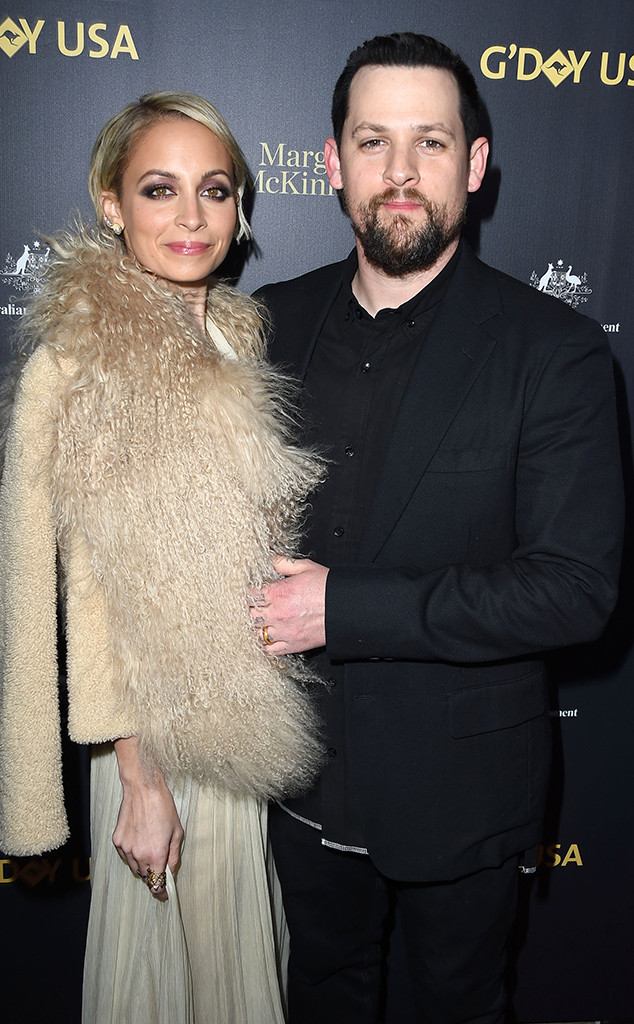 Steve Granitz/WireImage
The parents of two tied the knot in a lavish ceremony held at her father Lionel Richie's Beverly Hills estate, with Gwen Stefani and her then-husband Gavin Rossdale, Kris Jenner, Khloe Kardashian, Rachel Zoe, Ellen Pompeo and Pete Wentz  all in attendance, and Benji serving as the best man. (Oh, there was also an elephant present that Nicole rode into the ceremony.)
Since then, the couple, the reformed party girl and the rocker, has quietly settled into married life.
"I would say that Joel is a very shy introvert, who loves life, who enjoys life, who loves music, has such a deep passion for music, and anybody who shares that same passion he will go above and beyond for," Nicole gushed to Australia's 60 Minutes. "He is a loyal person, who has the most incredible family values of anybody that I've ever met."
And the Maddens are all about family, a value Nicole said she's come to respect even more after being adopted into the family's "large support system."
"I am a devoted sister-in-law," Nicole said on Watch What Happens Live. "I'm happy for anyone who is happy, and I want everyone to be surrounded with love."
Which is why she set up her brother-in-law with Cameron in May 2014, though the pair had actually met a few times prior over the years.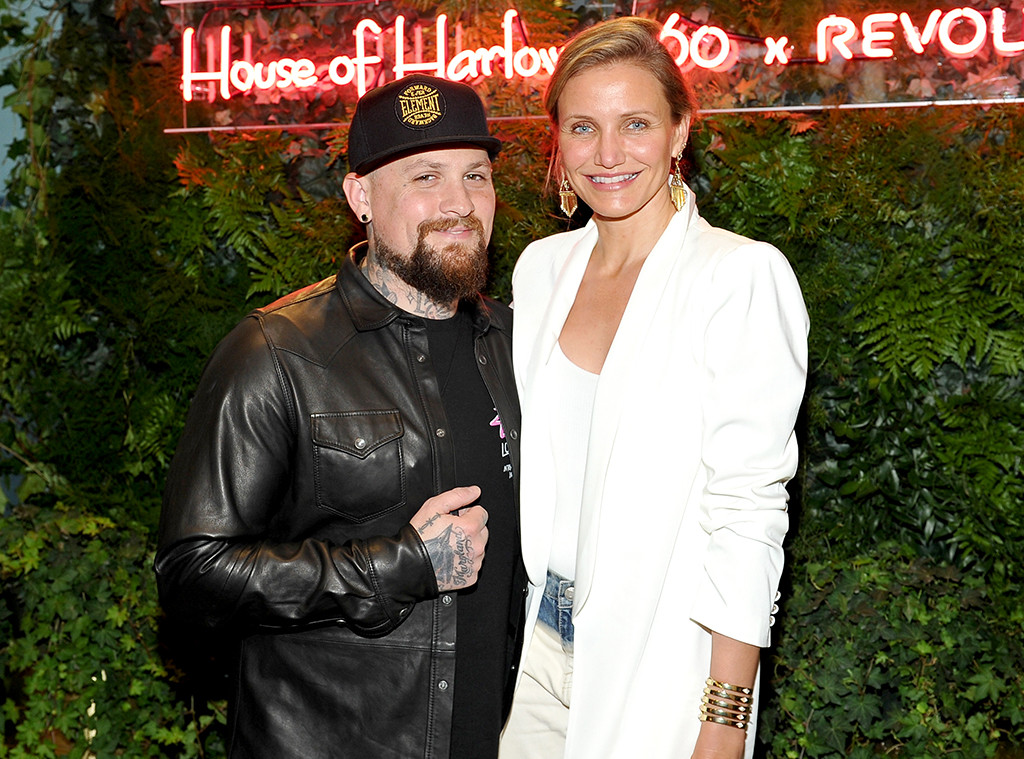 Donato Sardella/Getty Images for REVOLVE
"The first thing I said when I first met my husband was, 'He's hot,'" Cameron recalled to Andy Cohen in 2016. "How come I didn't know this before? We had never been in the same circle." And it was super-serious super-fast for the couple, as they ended up getting married in a private ceremony in January 2015, six months after they first began dating, with Nicole and Cam's BFF Drew Barrymore serving as bridesmaids. 
The news surprised many, especially given Benji's previous dating history. While Joel really had only been in the headlines for his two major relationships, his twin brother had a bit more of a playboy persona. 
He had high-profiles romances with Paris Hilton, Katy Perry, Holly Madison and Australian star Sophie Monk, whom he was once engaged to, before settling down with Cameron.  
Though Benji doesn't speak publicly about his wife often, he does know how to give a moving birthday tribute on social media. 
"There's so much to write, so many things that make me so proud of you and how special you are," he wrote for her 46th birthday. "Thank you for being the best friend and partner to me and taking this journey of Marriage."
He added, "The way you live your life everyday, and your compassion for the world shines thru in your eyes and you inspire me to want to be the best man I can be in this lifetime. You're the realest. I'm so grateful to be yours Always&Forever, and to call you my One&Only. True Love."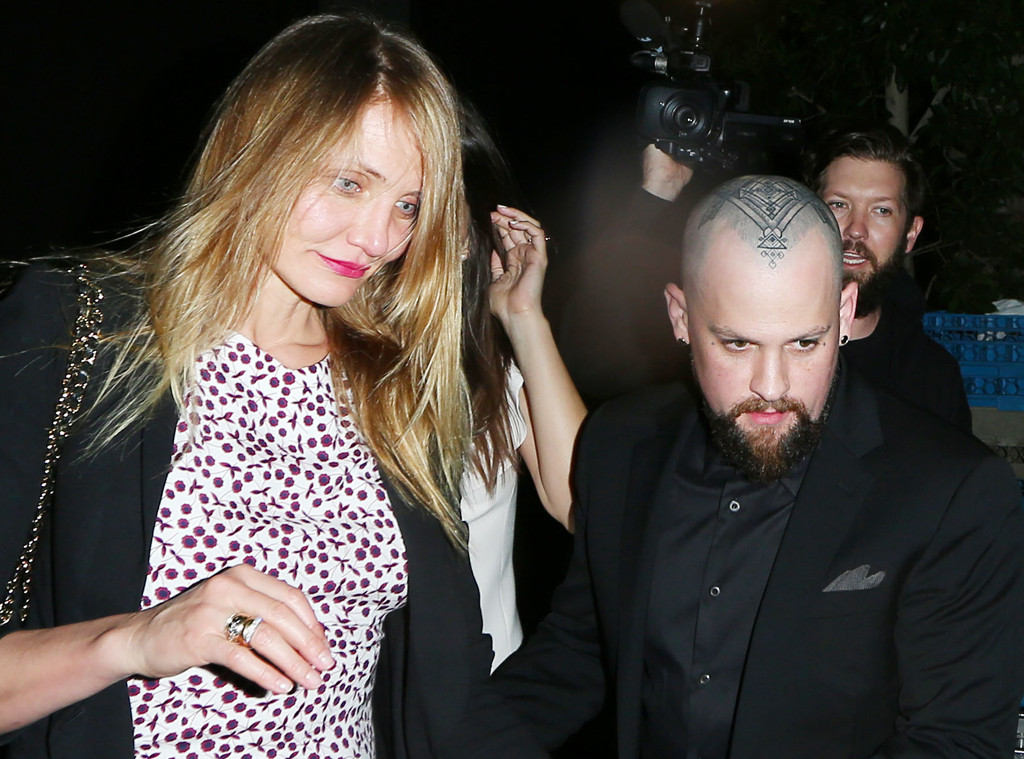 Photographer Group / Splash News
While they may seem like an odd match to some, Cameron gushed about her super-private marriage in at the Goop Wellness Summit in 2017, sitting on a panel with her sister-in-law. 
"I have a husband who is just my partner in life and in everything. Talk about two very different people! We are so different from one another, but we share the same values—we're totally two peas in a pod. We are both just weird enough for each other,' she added."
And much like Joel and Nicole, marital life has been quiet, solid and secure for Benji and Cameron, who had a string of very high-profile boyfriends before marrying the Good Charlotte rocker, including Justin Timberlake, Jared Leto and Alex Rodriguez. 
"That's how I know he's my husband… No one compares. Everything else just like washes and slips away," she told Cohen. "You realize like, 'Oh this is like the real thing is. This is what real love is. This is what real commitment and devotion is. This is the person you build your life with."
Joel and Benji are very close, with Joel telling People, "He's my best friend, so I love spending time with him. It's [also nice] having someone on your team, because the world has a very different perception of you than the person you really are."
So it makes sense that their wives are just as close, with Nicole even getting the now-retired Cameron to relive her time working on her classic rom-com My Best Friend's Wedding during a recent trip to Chicago. 
"She took me to every single (location). She's like, 'Remember when you were walking down the street right here and then…' It was so much fun," Cameron, 46, told Entertainment Weekly. "I was like, 'Yes, I think I do.' She's like, 'I do, and it really means a lot to me, so I would like for you to pretend like you do.'"
Nicole and Cameron were friends before becoming sister-in-laws, with the Great News star once gushing on Instagram, "This hot tamale is a force of light, laughter, knowledge, & hard hitting reality… All while having a smile on her face. Her love for the women in her life shows in the type of friend and person she is."
The foursome are often spotted out to dinner, celebrate holidays together, and publicly support each other's projects, with is the Madden way.
 Calling them "a very close family," Nicole said on the Goop panel,"They rely on each other. When we got together it was like, you're just in the family. It's a large support system."
Joel and Benji's happiness in their personal lives carried over into their music, especially 2016's Youth Authority, which was the band's first album in six years. 
The first single? "Life Can't Get Much Better," which is how the Maddens, who formed Good Charlotte while they were in high school, were feeling. 
"We're inspired by our own lives," Joel told People. "There are moments where you feel like life is perfect, and you want to stay in that moment forever, and that's how we feel: really blessed and lucky." 
It's because of their own traumatic experiences growing up, with their father walking out on their family when they were teenagers, that the Madden brothers feel so grateful for the relationships they are in now.
"When you grow up in a broken home, there's something about finally find love and security in your family," Joel reflected. "We're grateful for our families and the love we have in our lives."
Don't miss E! News every weeknight at 7, only on E!