Another day, another reunion for Ariana Grande. 
Just over a week ago, the Grammy-winning songstress was snapped hanging out with her former flame, Big Sean. Now, the star has been spotted with another familiar man from her past, Graham Phillips. 
On Saturday, the two were photographed on the streets of New York City, apparently heading to dinner together, according to a source. Grande donned a Burberry skirt and over-the-knee white boots under an oversized puffer coat for the occasion while the 25-year-old actor opted for a blazer and slacks underneath a sleek dark coat. 
According to the source, they went to ZZ's Clam Bar downtown around 9 p.m. and stayed for around two hours. 
The two, who met as co-stars in the Broadway production of 13 back in 2008, were reported to have previously dated and have remained friends with Phillips attending Grande's concert in the past and the two enjoying a show reunion in 2016. 
However, don't mistake this friendly gathering for a date, according to another source. 
"She's single," the insider said. "She's seen some of her exes, but she's not dating any of them. She's just catching up with people that she once cared about and had a connection with."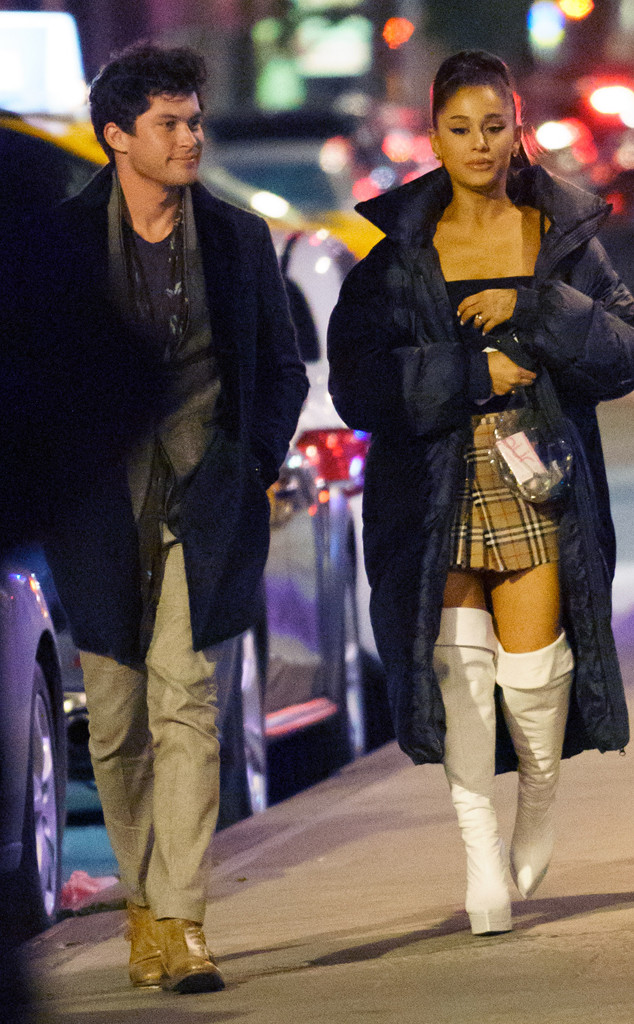 TheImageDirect.com
The source added, "She's in Pennsylvania now rehearsing for her tour and that's her main focus. She isn't thinking about one particular guy or that aspect of her life. She's working very hard to get ready for her shows."
Earlier this year, Grande was also spotted with ex-boyfriend Ricky Alvarez, one of the former flames she named in "thank u, next." However, she also shot down any budding romance speculation by telling fans, "We're friends everyone take a big ol breather."
Meanwhile, her most recent ex, Pete Davidson, broke his silence on his new fling with Kate Beckinsale, telling SNL viewers on Saturday night, "Apparently, people have a crazy fascination with our age difference. But, it doesn't really bother us. But, then again, I'm new to this."