Newsflash: Just because something isn't on social media, doesn't mean it doesn't exist. This includes Jennie Garth's grief over Luke Perry's death.
Fans have recently criticized the actress for not posting a tribute to her former Beverly Hills, 90210 co-star and Riverdale actor on social media after the 52-year-old's shocking death from a stroke last week, unlike many of their former cast mates.
They were particularly irked about it after Garth, who played Perry's character Dylan's love interest Kelly, shared a photo of her three daughters on Instagram on Friday, International Women's Day. It marked her first post since the actor's passing.
"I chose to post a pic of my girls today," Garth commented. "Because they are my life. Because today is a day to celebrate all women. It took a lot for me to want to celebrate anything. I thought about it and I know that's the way my dear friend would have wanted it."
"His kids were his life," she continued, referring to Perry's son Jack Perry, 21, and daughter Sophie Perry, 18. "And anyone who knew him know that and knows he didn't give a f–k about social media. So please don't assume or judge or make rude comments. That's really uncool. Sincerely, Jennie."
The actress also responded to a fan who wrote, "It's obvious her and [co-star] Tori Spelling didn't have a relationship with him. People who did have had something to say. They may be shocked but they're not mourning."
"Not cool," Garth replied.
In fact, both Garth and Spelling, who played Donna on Beverly Hills, 90210, released statements to People following Perry's death.
"My heart is broken," Garth had said. "He meant so much to so many. Such a very special person. I share my deep sadness with his family and all who loved him. Such a terrible loss." 
Paramount Home Entertainment
"I'm in utter shock and heartbroken," Spelling told People. "I'm saddened for his kids whom he adored beyond words. He was so proud of Jack and Sophie. Luke was one of the kindest and most humble human beings I've ever known. I'm grateful for the years of friendship we had. He truly was family to me, a protector and a brother. I'm so sorry for the loss that everyone is experiencing."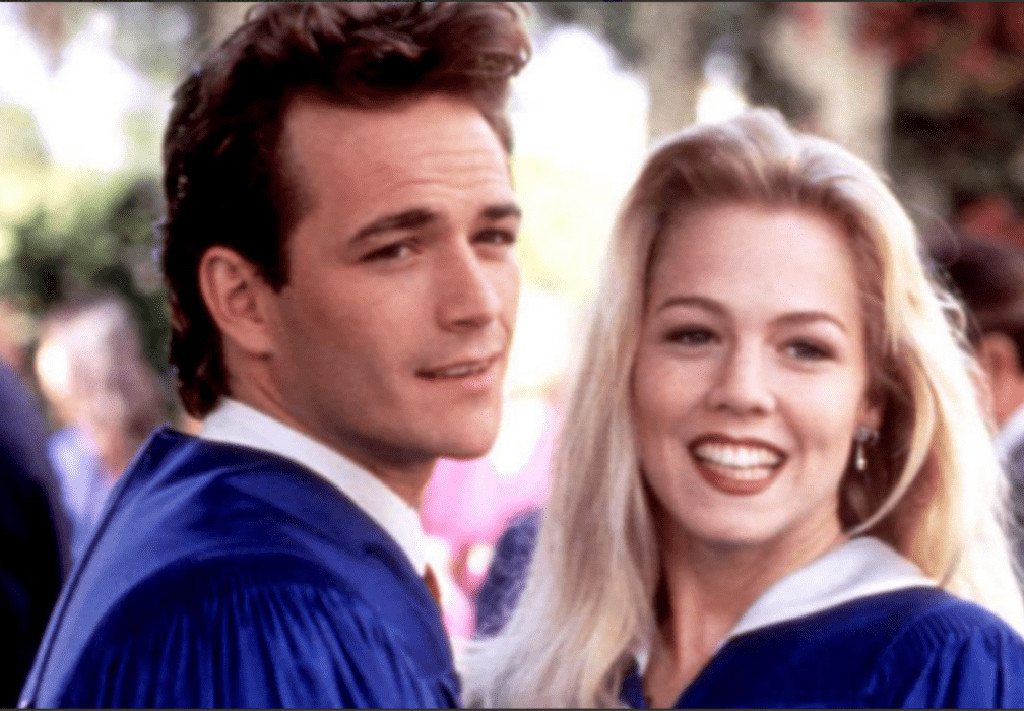 Paramount Home Entertainment
Perry and Garth remained friends after the show went off the air in 2000. They were last photographed in public in 2012, walking together in North Hollywood. People had also reported recently that a week before his death, the actor talked to the actress and sent her a photo of Sophie, who recently began a volunteer trip to Malawi. He also texted with Spelling, the outlet said.
In her 2014 memoir Deep Thoughts From a Hollywood Blonde, Garth recalls first meeting Perry on the set of Beverly Hills, 90210, where he started out as a guest star before they made him a cast member. She described him as "broody and elusive."
"Luke's quietness appealed to me," she added. "His unfussy confidence really drew me in. We were comrades in our appreciation of silence. We connected almost instantly in a pretty deep way, but I think we both knew that our friendship needed to be just the way it was: accepted and not tampered with."
Perry also kept in touch with more of their co-stars, including Shannen Doherty, who played Dylan's first big love interest, Brenda. She told People the two had lunch together in February.
Doherty was among the Beverly Hills, 90210 stars who posted a tribute to Perry after his death. She wrote, "Yesterday morning I got a phone call that devastated me. I'm struggling with this loss and am having a hard time with my thoughts. But, my heart goes out to his family and friends who were blessed by his light in their (and mine) lives. Processing this is impossible right now."
Garth, Spelling and several more of their past co-stars are set to appear in an upcoming mockumentary-style reboot of Beverly Hills, 90210 on FOX. Perry was never attached to the new project due to contractual obligations to Riverdale, which airs on the CW.