"I just had to get f–ked. That's all." 
Such was the decidedly NSFW explanation Cardi B offered for why she joined husband Offset for a Puerto Rican vacation mere weeks after taking to Instagram to declare she and musician, one-third of the trap music sensation that is Migos, had fallen out of love and were "not together any more." 
As she had told her 41 million-plus followers days earlier during an Instagram Live chat, "I miss it…a lot." (Never one to play coy, the straight-shooting Bronx-born rap sensation got into explicit detail about what exactly "it" was and the specific ways in which she felt herself yearning.) And so off she went to San Juan just days before Christmas, allowing Offset to take her for a ride—a jet ski ride, that is—ahead of her performance at the Electric Holiday music festival. 
But as well-documented as her love for bedroom play is, that alone does not a marriage save. And the 26-year-old has plenty of other reasons for reconciling with the Atlanta rapper, 27, after he confessed to "partaking in activity that I shouldn't have been partaking in" for the second time in their nascent marriage. 
Not that she has to justify herself to anyone. 
With all due respect to the fans she's been collecting in droves since "Bodak Yellow" hypnotized the nation, "My relationship—my marriage—is not for them," she told People as word spread of her decision to give the father of four another chance. (The spouses share 8-month-old Kulture, but Offset is also dad to Jordan, 9, Kody and Kalea, both 3.) Nor, she contends, is it anything like the romances they enjoy far from the spotlight's judgmental glare. "People are so quick to be like, 'You should just date somebody else,'" she continued to the mag in an interview conducted days before she and Offset were set to make the rounds at the Super Bowl in his hometown. "It's like, Honey, I'm not like you—I'm famous. I gotta consider who I'm dating, I gotta make sure people will have me for me. And I have a kid….We are a package. It's not just Cardi, it's Cardi and Kulture."
Which, if you break it down, is her main reason for relenting to Offset's pleas for forgiveness. 
"When I was 13, my parents separated, right?" she explained of her Trinidadian-born cashier mother and cab driver father who hails from the Dominican Republic during an appearance on Good Morning America of her. "So I always feel like it's important to have, like, a two-parent household."
It was more or less the same motivation she had for overlooking the "Don't Lose Me" artist's last cheating scandal. When an iCloud hack seemed to catch Offset with another woman she tweeted, then deleted, "I'm going to make a decision in my own times with my heart and mind. I don't need to be rushed or be told what to do. It's my life! I belong to me not to the world," adding that while "it's not right" to cheat, "What you want me to do? Go f–k me another n—a? start all over again and get cheated on again? This s–t happens to everyone."
She later explained her situation to Cosmopolitan, saying, "It's like everybody is coming down my neck like, 'Why are you not leaving him? You have low self-esteem.' I know I look good. I know I'm rich, I know I'm talented. I know I could get any man I want—any basketball player, football player. But, I want to work out my sh-t with my man, and I don't got to explain why."
But if she did, she would have shared that it wasn't as simple as walking away from a fiancé and the eight-carat custom teardrop-shaped rock he'd gifted her midway through his October 2017 set at Power 99's Powerhouse in Philadelphia. 
The gesture was actually one of pure show for a girl still eager to be wooed despite agreeing to wed her man in a no-frills bedroom ceremony a month earlier. "We really loved each other, and we was scared to lose each other," she told W magazine of their spur-of-the-moment decision. And by the time the scandal broke, not only did she have a husband, but together they had learned they were expecting their first child.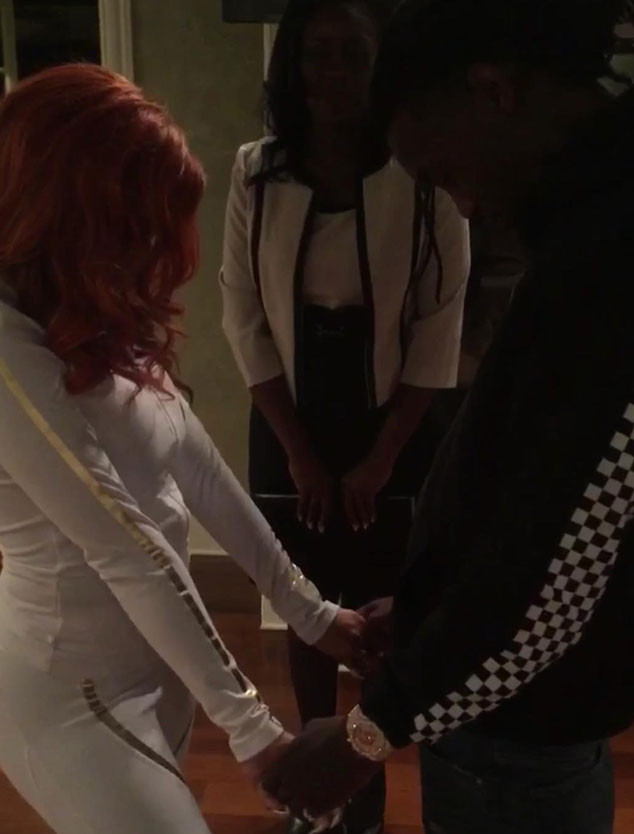 Instagram
So she stayed the course, even, as she noted to W, Internet trolls tried to stoke her fears that it would happen again. "Every single day there's rumors about me and my dude. And it almost drives me crazy, because I start to believe them," she admitted. "I don't have no proof. I don't have receipts. But I just got to know my man. We practically on the phone 24 hours a day. If I can't find him, I'm going to find his friend. Somebody going to answer the phone. But I cannot be feeling insecure, to a point that I would drive my dude away, because these people want that to happen."
And for a while she truly felt she had a handle on the situation. 
"I know my man," she stressed to E! News. "And I know his moves. You know, ever since that cheating scandal happened in December, there has been so many rumors that he's doing this, that he's doing that and it's like, you've just got to know your man, he's got to know his woman and everything and it's just like, it's whatever because they're going to always try it." 
"Once you do a mess up, they're going to want to try because it's a hot topic, it's a trending topic, so people are going to try it. And if you let that go to your head, then you let that go in your marriage and then that's what messes up your marriage."  
In the end, though, it wasn't so much her doubts that did them in as it was his actions. Taking to Instagram just hours before he'd celebrate his birthday at West Hollywood nightclub Poppy Dec. 14, he seemed to confirm the legitimacy of a video The Shade Room had posted of him allegedly on FaceTime with a woman named Summer Bunni. 
"I apologize," he began. "You know what I'm saying? For breaking your heart, for breaking our promise, for breaking God's promise and being a selfish, messed up husband. I'm trying to be a better person. I want to get this off my shoulders. I want to get this off my back. I apologize to you Cardi. I love you."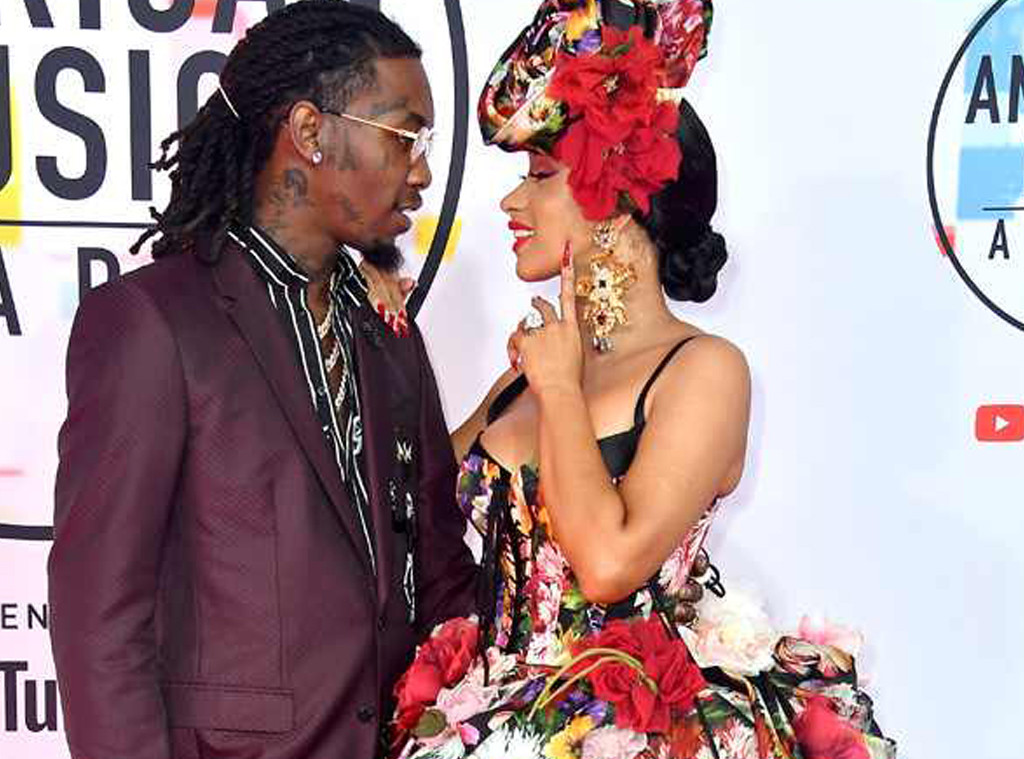 Frazer Harrison/Getty Images
Reiterating that he still wants to spend the rest of his life with her, he detailed the level of his indiscretion. "I didn't f–k that girl," he noted, "but I was entertaining her, you know what I'm saying? I apologize, and I love you, and I hope you forgive me. My birthday wish is just to have you back."
To prove it wasn't an idle longing, he went full-court press on his Win Back Cardi campaign. Though his decision to interrupt her set at the Rolling Loud Festival in mid-December with a $15,000 display of red and white roses was a swing and a miss ("She understands where he is coming from and appreciates that he is trying," a source told E! News at the time, "but she is still very hurt,") his relentless overtures eventually broke through. 
Weeks after Cardi told Harper's Bazaar she turned down his request to see a therapist—"I didn't want to go to marriage counseling," she said. "He suggested it, but it's like, 'I don't want to go.' There's no counselor or nothing that could make me change my mind,"—he revealed she had acquiesced.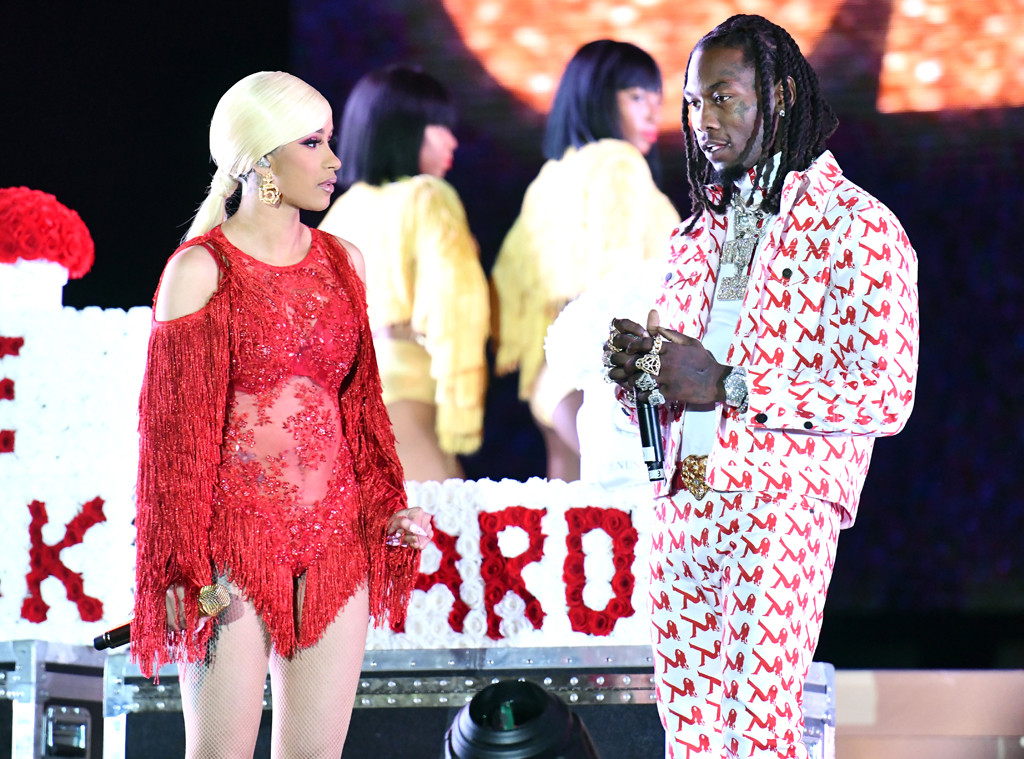 Scott Dudelson/Getty Images
"You gotta go through steps and different things so we can grow," he shared during a Feb. 27 appearance on The Breakfast Club, adding that one of those steps was bringing in a professional for counseling. "Not on the TV thought, real behind the scenes, getting to know who you're with and appreciate them all the way around."
And an excessive display of jewels, flowers, shoes and purses never hurts a situation.  
For Christmas, Offset splashed out tens of thousands of his estimated $16 million net worth to shower his bride in snakeskin pumps, designer bags and more than a few pieces of bling and he followed that up with more diamonds for Valentine's Day along with blooms spelling out I [heart] Cardi.
But for all the Birkin bags and quilted Chanels, it's the simple fact that Kiari Kendrell Cephus still sees her as Belcalis Almanzar, the hustler from the Bronx who landed on Love & Hip-Hop: New York talking a big game and possessing the goods to back it up.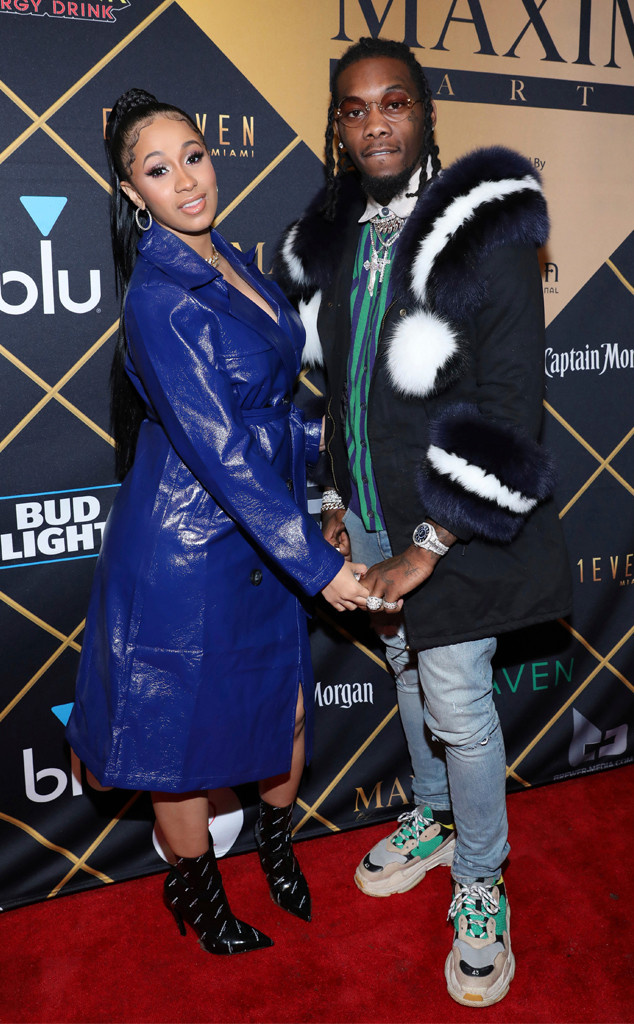 Omar Vega/Invision/AP/Shutterstock
Long before "Bodak Yellow" became the can't miss song of summer 2017, setting the stage for Cardi's Grammy-winning debut Invasion of Privacy, Offset was all in. 
Migos was already well on the come up thanks to their 2016 track "Bad and Boujee". But while Cardi was known in some circles, thanks to her fame-sealing reality TV gig and two successful mixtapes, she was still months away from being a household name. Offset, though, had noticed that spark, her authentic and infectious personality that suggested she was, in fact, going to be just as big of a star as she predicted, and he was smitten. 
Having guested on "Lick" off her Gangsta Bitch Music Vol. 2 he asked his publicist to put together a dinner in New York for a select group of people, Cardi being a must-attend. "I was like, 'Damn, I am on her!'" he explained to Rolling Stone. "I am like, 'S–t, I like Cardi B!'"
Undeterred when she informed him that she doesn't date rappers, he continued to press. "He was so consistent," she would later tell E! News. "He put it down, he was just on some, 'Look I'm not stopping until I get you,' and it's like, 'Well, if you want me so bad come get me.'" 
Their first outing—at the 2017 Super Bowl—immediately set them up as hip hop's power couple and for Cardi that's a shared title. She's not about to split the throne with just any guy that comes calling. 
"I have a kid, and I'm also famous," she explained to Harper's Bazaar. "So I can't just sleep with anybody. People talk. You know, if I date somebody in the industry, that's another person in the industry. If I date somebody who is not in the industry, he might not understand my lifestyle."
For all of the guys currently sliding into her DMs, none have sparked any interest. "It's like, 'Bro, why would you want to holler at me right away? You're weird,'" she said. "If you think Imma automatically hop onto you after a marriage, that just means you think I'm a sleaze. And I'm not. I have a kid—I have to show an example."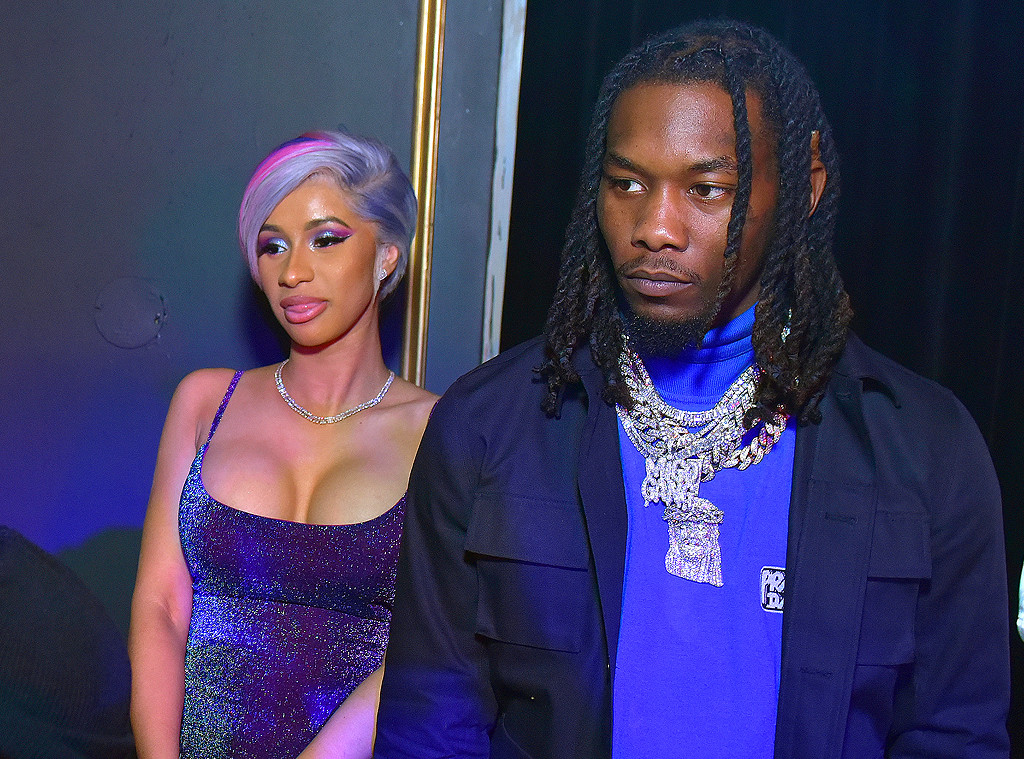 Prince Williams/Wireimage
Besides, it's been difficult to weed out the guys who are into Belcalis from those who just want to brag they shared a dinner table with a Grammy winner. 
"A whole lot of people was telling me like, 'Oh, you could date, you could find another man,'" she noted on Good Morning America. "And it's like, I can. I could find anybody I want. You don't know these days who want you for you. Sometimes I'm feeling people want me for Cardi B." 
Shortly after she released their split announcement, she continued, she was inundated with dinner invitations from other male stars, most of whose interest she found suspect. As she put it to GMA, "I just feel like, it's not as easy as people think."
So she's going to give her best effort to the relationship she built before she began stockpiling Grammys and American Music Awards, though she's quick to point out that despite appearances and online declarations of love she hasn't exactly forgotten about his past indiscretions.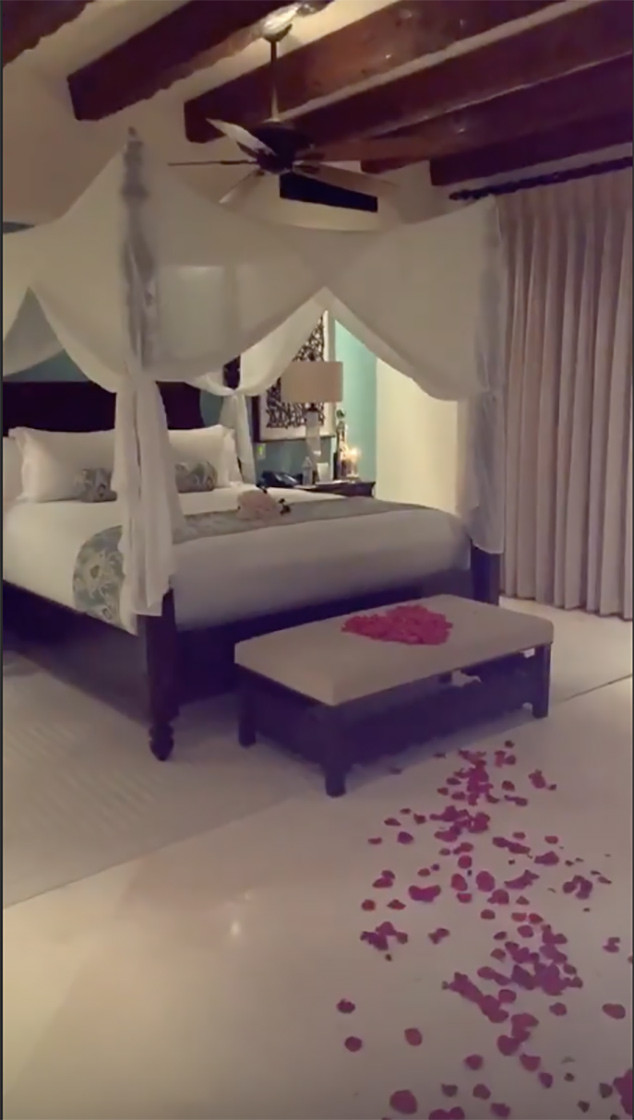 Instagram
For now, she told People, they're "just taking things slow." That means date nights, bonding over the care of Kulture, and, yes, the occasional trip to Cabo complete with an embarrassing display of rose petals that caused Cardi to declare he had earned himself a decidedly personal reward. 
"I hang out with him, I talk to him every day and we do our thing," she explained to the mag last month. "It's just like—to make things perfect…it takes time. You know, f–king and hanging out doesn't mean that you guys are on like a perfect note, it takes time. It takes time. And it's a marriage and there's a child involved and family involved."
Or, as one source put it to E! News, the reunion is entirely conditional on his good behavior. 
"A divorce isn't on Cardi's mind anymore," said the source. "She has been focusing more on how they are going to work this out. The negativity of their relationship has blown over and she's staying positive that it will work." Still, continued the source, "Cardi is keeping a close eye on him and has expressed if he slips up again, she's done."